The spring 2012 Pen Y Groes Seminars got off to a great start on Monday as students met with former director of the National Science Foundation Rita Colwell.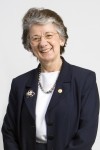 Colwell served as the NSF's 11th director from 1998  to 2004. In her capacity as NSF director, she served as co-chair of the Committee on Science of the National Science and Technology Council. Among her major interests are K-12 science-and-mathematics education, graduate science and engineering education, and the increased participation of women and minorities in science and engineering. Her research interests are focused on global infectious diseases, water, and health, and she is currently developing an international network to address emerging infectious diseases and water issues, including safe drinking water for both the developed and developing world.
Brittney Li '14 was among the students to attend lunch with Colwell and President Jane McAuliffe.
"What touched me the most was how strong her will is, and how firmly she stood by her decisions and never regretted anything. She believed in herself when everybody told her that women cannot be scientists, and she took risks and stood by her every decision. My father is also a Ph.D.-student advisor, and I have seen how so many of the women doubted themselves in front of men, and I thought Rita was a great inspiration. Her experience really touched me and firmly encouraged my decision of being a scientist," says Li.
"I went to the lunch with Dr. Colwell because she is a great female scientist, and I know how hard it is even in my time. During the lunch, she said, 'you should always keep in mind when you pursue your career in science, that the intelligence genes are not located on the Y chromosome.' The conversation with her and her life story were very inspiring," adds Jiabin Liu '13, who also attended the luncheon.
While on campus, Colwell also met with students in Professor Monica Chander's senior seminar in biology.
The next Pen Y Groes Seminar will take place on Friday, Feb. 24, from noon-1:15 p.m. McAuliffe's guest will be Inyang Ebong-Harstrup '82. Ebong-Harstrup is currently deputy director of the United Nations Development Program (UNDP), which is the UN's global development network. UNDP's focus areas are poverty alleviation, promoting democratic governance, capacity development, women's empowerment, crisis prevention, HIV/AIDS prevention and treatment, and energy and environment planning and development.
Ebong-Harstrup grew up in London and Lagos, Nigeria, was a history major at BMC, and earned a Ph.D. in history at the University of Edinburgh. She has worked at UNDP since 1990 and has served in Tanzania, Ethiopia, and New York, and as UNDP's resident representative and country officer for Trinidad, Tobago and the southern Caribbean. While posted to Trinidad she led a game-changing initiative to strengthen the health sector with the help of doctors participating in the United Nations Volunteers program.
Ebong-Harstrup attended the Women in Public Service colloquium at the State Department in December; see Sarah Alcid's brief interview with her in a guest blog post for Bryn Mawr Now.
Those interested in joining Dr. Ebong-Harstrup for lunch and conversation should send an email to president-rsvp[at]brynmawr.edu. Seats will be reserved on a first-come, first-served basis.
Other seminar speakers scheduled for this spring are Judge Marjorie Rendell, Campbell's Soup Senior Vice President Nancy Reardon and Genevieve Bell '92.
The Pen Y Groes Seminar Series brings together small groups of students at Pen Y Groes, the president's house, to meet with accomplished professionals for informal conversation about their field of work, career paths, and connections to their undergraduate experience.
Comments Off

on Spring Pen Y Groes Seminars Launch with Visit by Former NSF Director Rita Colwell