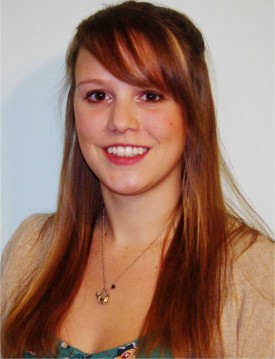 Senior Brielle C. Stark's last-minute decision to apply for the Gates Cambridge Scholarship felt like a shot in the dark. After being passed over for the Rhodes Scholarship, Stark was skeptical about her chances; however, she learned last week that she had been chosen as a 2012 Gates Cambridge Scholar. This scholarship provides Stark with the opportunity to pursue her Ph.D. in clinical neurosciences at the University of Cambridge in Cambridge, U.K.
A psychology major with a concentration in neural and behavioral sciences, Stark hopes to focus her Ph.D. research on trauma recovery, specifically clearer methods of language recovery and "clinical neurorehabilitation" following stroke.
"I couldn't be more excited to spend the next 3 years at the highest ranking institution in the world," Stark writes on her blog, "surrounded by a country I love and working in a field that I truly believe will hold promise for making a difference in the lives of millions of people in the near future (stroke rehabilitation research). "
This scholarship program was set up by the Bill and Melinda Gates Foundation in October 2000 and awards each recipient a full-cost scholarship to complete a graduate degree in any subject offered at the University of Cambridge. Stark is the first Bryn Mawr student to win the scholarship, one of eight winners this year from U.S. institutions not previously represented in the group of Gates Cambridge Scholars: Brooklyn College, Reed College, Oberlin College, Occidental College, Evangel University, Montana State, Oregon State, and Bryn Mawr College. Five of these eight schools are liberal-arts colleges.
Stark is one of 40 U.S. Gates Cambridge Scholars to be named in 2012, and 50 more will be chosen internationally. The 40 U.S. winners are chosen from a pool of around 750 applicants: outstanding academic merit, a strong sense of leadership, and a desire to better the lives of others are key selection criteria. There are currently 235 Gates Scholars from 60 countries studying in Cambridge.
After the finalist email arrived in her inbox in late December, Stark traveled to San Francisco for her 25-minute interview with the biological-sciences panel. "Who knew that talking about oneself could be so difficult?  Paraphrasing a life into 25 minutes is a feat," says Stark.
Though Stark was confident about her interview and felt she conveyed herself enthusiastically and as a person who was eager for knowledge, she wasn't sure what would come of it. "It's one of those things where you stop and say, did that just happen?" says Stark.  "I didn't feel like I was going to necessarily get the scholarship, but I did feel as if I had a fighting chance, albeit a small one."
Four days later, Stark was notified that she had been selected for the scholarship.
Along with her time studying the sciences, Stark is a committed disabilities advocate, volunteer and youth leader, as well as an athlete. She currently sits on Leadership Team of the American Red Cross National Youth Council, where she helps build local and national communication among youth. She has also worked as a personal-care provider for people with disabilities. An experienced coxswain, Stark served as the Men's First Boat Coxswain at the University of Oxford-St. Anne's College, England, during her junior year abroad and as co-captain of therowing team at Bryn Mawr.
Comments Off

on Bryn Mawr Student Brielle Stark '12 Wins Gates Cambridge Scholarship to Pursue Ph.D. in Neuroscience