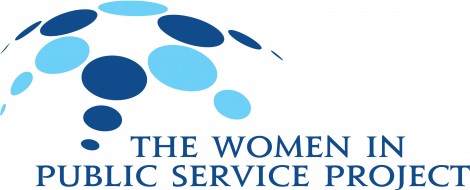 On Thursday, Dec. 15, Bryn Mawr College will join other top U.S. women's colleges and leaders from throughout the world for the inaugural colloquium of The Women in Public Service Project (TWPSP).  The colloquium will highlight the urgent need for women in public service and the resources they need to attain positions of leadership.
TWPSP is a collaboration among Bryn Mawr and other top U.S. women's colleges—Barnard, Mt. Holyoke, Smith and Wellesley—and the U.S. State Department that seeks to prepare the next generation of women leaders from around the globe for success in public service.
The colloquium takes place in Washington, D.C., from 10 a.m. to 1 p.m. A webcast will be available at https://statedept.connectsolutions.com/wps and can be viewed on The Women in Public Service Project  website. A simulcast will also be broadcast at the Campus Center.
"Bryn Mawr alumnae and those of our sister colleges are leaders at every level of public service throughout the world," notes Bryn Mawr President Jane McAuliffe. "As partners with the State Department, we are ideally positioned to identify, mentor, and support a rising generation of women as leaders."
McAuliffe will be joined at the event by several faculty members, a number of current Bryn Mawr students, whom the College is taking to D.C. the night before, as well as a contingent of alumnae. The Bryn Mawr groups will be joined by hundreds of alumnae, faculty members, and students from the other participating colleges.
Secretary of State Hillary Clinton will deliver the keynote address at the colloquium. Other confirmed speakers include Christine Lagarde, managing director of the International Monetary Fund; Melanne Verveer, Ambassador-at-Large for Global Women's Issues; and former Secretary of State Madeleine Albright.
Among notable Bryn Mawr alumnae participating will be Rosabeth Moss Kanter '64, Ernest L. Arbuckle Professor at  Harvard Business School; Inyang Ebong-Harstrup '82, deputy director of the United Nations Development Program; Shazia Rafi '79, secretary general, Parliamentarians for Global Action; Ragia Omran '94, a human-rights and political activist involved in the Egyptian democracy movement;  and Ambassador Teresita Shaffer '66, director of the South Asia Program, Center for Strategic International Studies.
Follow ongoing updates from the Women in Public Service Project on Facebook and Twitter.
Comments Off

on Dec. 15 Women in Public Service Colloquium to be Streamed Online and Simulcast at Campus Center