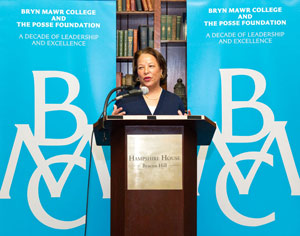 More than 150 alumnae/i and friends of Bryn Mawr joined a number of former and current Bryn Mawr Posse Scholars, Massachusetts Governor Duval Patrick and First Lady Diane Patrick, college officials including President Jane McAuliffe and former President Nancy Vickers, and Posse Foundation representatives at Boston's Hampshire House on Nov. 29 for a celebration of the 10th anniversary of Bryn Mawr's partnership with Posse.
See photos from the evening in the slideshow embedded below or on Flickr.
"What a fantastic night," said Bryn Mawr President Jane McAuliffe afterward. "There was incredible joy in the room and such an appreciation for what the Posse Program has meant to both the Posse Scholars and the entire Bryn Mawr community. I was especially honored to share the podium once again with President Vickers, who played such a central role in bringing Posse to Bryn Mawr."
Speakers at the event included McAuliffe, Vickers, First Lady Patrick, Posse Foundation Regional Vice President Sue Dalelio,  Boston City Councilwoman  Ayanna Presley,  and former Posse Scholar Jackney Prioly '06, who is now Presley's director of external relations.
First Lady Patrick serves on the Board of the Posse Foundation and has been a mentor to current Bryn Mawr Posse Scholar Gabrielle Farrell '12 (as Farrell wrote on her blog following the event).
For more about Bryn Mawr's 10-year partnership with Posse, read this article in the latest Alumnae Bulletin.
Comments Off

on Event Celebrates 10-Year Partnership Between Bryn Mawr and the Posse Foundation