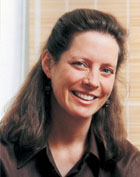 Professor of Education and Coordinator of The Andrew W. Mellon Teaching and Learning Institute Alison Cook-Sather was recently named the Jean Rudduck Visiting Scholar at Homerton College, University of Cambridge, England.
This position is named in honor of Jean Rudduck (1937-2007), the University of Cambridge's first female professor of education and a pioneer in the area of student-voice research and practice, an international movement in the K-12 educational arena that has recently expanded to higher education.
Cook-Sather, who has been at the forefront of bringing student-voice research and practice into secondary-teacher preparation and college-faculty development, is the first to hold the title.
"While 'student voice' takes many forms, the underlying premise is that students have crucial perspectives and an important role to play in conceptualizing and analyzing educational opportunities," explains Cook-Sather. "Rather than assume faculty can know ahead of time what facilitates learning in a given context and what makes learning meaningful and lasting for students, student-voice work invites students into dialogue about these questions.
"'Voice is a metaphor for active student participation in the development and the study of approaches to teaching, learning, and education more generally. Through this area of research and practice, students become consultants and partners, working together with teachers and scholars to make education a mutually engaging process," she adds.
In 1995, just after arriving at Bryn Mawr, Cook-Sather designed a program called "Teaching and Learning Together." The ground-breaking program positions high-school students as pedagogical consultants to Bryn Mawr and Haverford undergraduates seeking certification to teach at the secondary level. Now in its 16th year, "Teaching and Learning Together" has been supported by grants from the Ford Foundation and The Arthur Vining Davis Foundations.
Built on the same model is the Students as Learners and Teachers (SaLT) program, which was piloted in 2006 with support from The Andrew W. Mellon Foundation and is now part of The Andrew W. Mellon Teaching and Learning Institute (TLI) at Bryn Mawr College. Through this program, undergraduate students partner with Bryn Mawr and Haverford faculty members interested in analyzing their teaching and, in particular, learning from the student perspective about what is working well and what might be revised in their pedagogical approaches. Over 100 faculty members in the Bi-Co have participated in this program to date, including new tenure-track faculty members, who are supported by the Provost's Office for their participation during their first semester.
Cook-Sather's relationship with the University of Cambridge began several years ago. Her early work on student voice and publication in the flagship journal of the American Educational Research Association prompted an invitation in 2005 to deliver a keynote address at a seminar series funded by the Economic and Social Research Council (ESRC) in the United Kingdom and co-sponsored by the Universities of Nottingham and Sussex, Manchester Metropolitan University and Networked Learning Group, National College for School Leadership, Nottingham. There she met colleagues from the University of Cambridge and laid the foundations for an ongoing relationship.
Since then she has returned twice to Cambridge, in June 2010 to give a talk on the release of the paperback of Learning from the Student's Perspective: A Sourcebook for Effective Teaching, which was dedicated to Jean Rudduck, and in June 2011, to serve as a Visiting Scholar in the University of Cambridge Faculty of Education. In the latter role, she ran a seminar that brought together 60 scholars, researchers, teachers, and students from across levels (primary, secondary, tertiary) and from multiple countries (Australia, US, UK, Canada, Spain, the Netherlands) to share their work in the field of student voice.
In her role as the Jean Rudduck Visiting Scholar, Cook-Sather will return to Cambridge for the next three summers to run seminars and give talks at the University of Cambridge and at other universities in the United Kingdom. This work will support others in developing programs such as Cook-Sather has pioneered at Bryn Mawr; provide a forum for colleagues to develop submissions to Teaching and Learning Together in Higher Education, an online journal launched with support from The Andrew. W. Mellon Foundation; and facilitate the development of partnerships with colleagues and universities in the United Kingdom and elsewhere in Europe.
Comments Off

on Alison Cook-Sather Named Jean Rudduck Visiting Scholar at the University of Cambridge