On Thursday, Oct. 27, more than 100 members of the Class of 2012 donated to the Senior Gift at its kick-off event.  This record-breaking effort amounted to over 30 percent participation from the class, which aims to best the Class of 2011's 84 percent participation by Convocation on May 17, 2012.
Seniors flooded the senior gift table in the Campus Center when the event began at 11 a.m., and a steady stream continued throughout the day.  The Senior Gift Committee, filled with enthusiasm from the start, opted to remain for an extra hour so they could break the 100-person mark by the end of the day. The committee had initially hoped to reach the 100 donor mark by mid-February.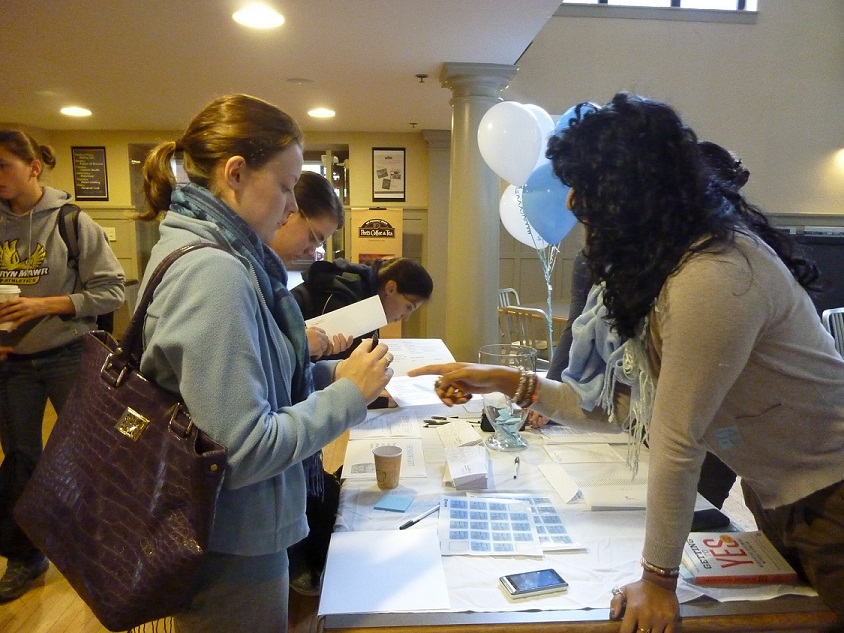 Donors were treated to hot chocolate with marshmallows and Hope's Cookies, and anyone who gave during the kick-off was entered into a raffle for automatic spots in their top three Senior Week activities—no standing in line necessary.
The Senior Gift aims to establish the importance of annual giving before graduation by emphasizing participation over gift amount. The funds raised through the Senior Gift are part of the Annual Fund, which supports financial aid and scholarships, faculty enhancement, student internships, and the overall strength of the college. The committee this year is headed by Molly Reinganum '12 and Lee Wacker '12, and consists of 20 members nominated by last year's committee, deans, and other support staff on campus. Their yearlong goal is to educate their classmates on the importance of the Annual Fund and the tradition of philanthropy that has sustained Bryn Mawr throughout its history. To give to the Senior Gift, visit www.brynmawr.edu/makeagift.
For more information, contact Christina Wagner '11 at (610) 526-7553 or cwagner[at]brynmawr.edu.
Comments Off

on Class of 2012 Kicks Off Senior Gift Campaign With Record Numbers