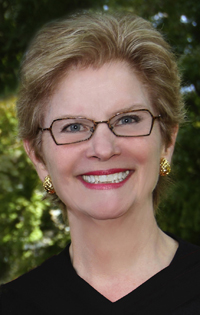 A panel of higher-education experts including Bryn Mawr President Jane McAuliffe has issued a report calling for increased and more fully engaged collaboration between U.S. colleges and universities and institutions abroad.
Titled Strength through Global Leadership and Engagement: U.S. Higher Education in the 21st Century, the report was commissioned by the board of the American Council on Education. It is the result of the yearlong work of ACE's Blue Ribbon Panel on Global Engagement, chaired by New York University President John Sexton and involving leaders of institutions from around the world.
"As is stated in the report, colleges and universities need to develop unique strategies for global engagement that resonate with their core principles and practices; balance pragmatism with idealism; complement overall institutional strategic planning; and align local and global interests," says McAuliffe, who was named to ACE's board of directors in March of this year.
"The question is no longer whether U.S. colleges and universities will be involved with international collaborations, but whether they'll be involved with these collaborations in a deliberate and meaningful fashion that best promotes scholarship and prepares students to be citizens of the world," McAuliffe adds.
The report takes an in-depth look at the growth of international networks and the global relationships in which scholars and institutions have become increasingly involved. It emphasizes that today's graduates must be prepared for interaction throughout their careers with peers in other countries. On the basis of that information, the report makes recommendations both for institutions and ACE to ensure the long-term success of American higher education through international collaboration.
According to the report, the most successful and influential institutions will operate in global networks in which faculty, students, research activity, teaching models and ideas will travel freely. To aid institutions working toward this vision, the panel identified a cluster of general issues that confront all universities and colleges, regardless of institution type. These themes are meant to be seen as guidelines and require conversations and decisions that must be made at the institutional level before moving ahead with international strategies.
The report also includes a section about how ACE can better serve institutions as they respond to the new global environment. It charges the Council to:
lead on critical global higher education issues;
assume a broader advocacy role;
conduct, gather and disseminate research and analysis;
provide constituent services in the global arena; and
deepen international ties and outreach.
To accomplish those ends, ACE announced the creation of its new Center for Internationalization and Global Engagement, to be led by Patti McGill Peterson, ACE's presidential advisor for global initiatives.
Founded in 1918, ACE is the only higher-education organization that represents presidents and chancellors of all types of accredited, degree-granting institutions in the United States: community colleges and four-year institutions, private and public universities, and nonprofit and for-profit colleges. ACE represents the interests of more than 1,600 campus executives, as well as 200 leaders of higher-education-related associations and organizations. Together, ACE member institutions serve 80 percent of today's college students.
Comments Off

on Bryn Mawr President Jane McAuliffe and Fellow Higher-Education Leaders Call for Increased Global Collaboration