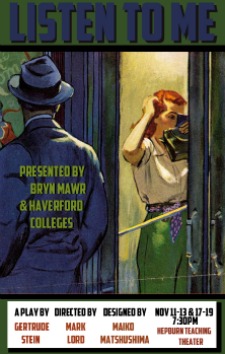 The Theater Program of Bryn Mawr and Haverford Colleges will present Gertrude Stein's "Listen to Me" as directed by Mark Lord and designed by Maiko Matsushime Nov. 11-13 and 17-19 at 7:30 p.m. Audience members are urged to wear comfortable shoes, expect the unexpected and to make reservations in advance by emailing reservations@brynmawr.edu or calling (610) 526-5210.
Stein's "Listen to Me" is an adventure, a celebration of the written and spoken word: a play on love, on human nature, and on our drive to question everything. The characters laugh, interrogating their audience and their own objectives, frolicking through a cerebral space and reminding us again that theater is a place for both spectacle and intelligence, for both tumblers and philosophers.
In this production, a cast of 15 student actors deliver rhythmic, arresting bouts of playful dialogue, the energy crackling off them and into their audience. Sweet William pursues his Lillian as several narrators describe his strategy, their words overlapping. Stein's world through Lord's lens is somehow expansive even in a domestic setting; characters attack global issues while seated on a couch. Their speeches on love and ethics flow cyclical and fluid as they stand on a stage surrounded by impressively constructed shelves bearing thousands of books.
Comments Off

on Bryn Mawr-Haverford Theater Presents Gertrude Stein's "Listen to Me"