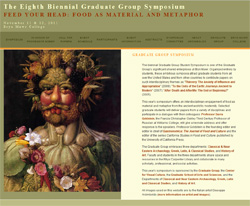 Darra Goldstein, a pioneer in the field of food studies, will deliver the keynote address at "Feed Your Head: Food as Material and Metaphor," the eighth biennial graduate-student symposium organized and hosted by graduate students in Bryn Mawr College's interdisciplinary Graduate Group in Archaeology, Classics, and History of Art.
Scheduled for next Friday, Nov. 11, and Saturday, Nov. 12, the event will bring emerging scholars from around the United States to campus to share their work on food, food practices, and their cultural representations. The symposium is free and open to the public.
In conjunction with the symposium, an exhibition of food-related objects, prints, photos, and paintings from Bryn Mawr College Special Collections will be on display in the Kaiser Reading Room of the Rhys Carpenter Library from Nov. 11 through Dec. 22. The exhibition curators are Ph.D. students Lauren Crampton, and Jennifer Hoyt, who co-chaired the conference committee.
Keynote speaker Goldstein is the Francis Christopher Oakley Third Century Professor of Russian at Williams College, the founding editor and editor-in-chief of Gastronomica: the Journal of Food and Culture, and the editor of the California Studies in Food and Culture Series published by the University of California Press. In addition to her numerous scholarly publications, she has published four cookbooks. She has consulted for the Council of Europe as part of an international group exploring ways in which food can be used to promote tolerance and diversity, and under her editorship the volume Culinary Cultures of Europe: Identity, Diversity and Dialogue was published in 2005 to commemorate the 50th anniversary of the signing of the European Cultural Convention.
Goldstein will deliver her keynote address, titled "The Hungry Gaze: Food and Its Cultural Representations," at 4:45 p.m. in Carpenter B21 on Friday, Nov. 11. An open reception will follow. Goldstein will also offer brief closing remarks on Saturday evening.
On Saturday, twelve graduate students representing a range of fields in the humanities and humanistic social sciences will present papers. The schedule of public events runs from 8:45 a.m. to 6:10 p.m., with a lunch break from 12:15 -2:15 p.m. The papers are divided thematically into four groups; a discussion will follow each set of three presentations (see the event schedule).
Selecting conference participants was the most difficult part of organizing the conference, said co-chair Crampton.
"We looked for a variety of topics, and we wanted to make sure that all the disciplines in the Graduate Group were represented," Crampton said. "We looked for quality, of course, and for papers that could be grouped thematically to foster discussion among panelists."
Both of the co-chairs are Ph.D. students in Greek, Latin, and Classical Studies—an unusual situation, since co-chairs usually represent different departments. "But Jennifer and I have very different approaches—even our fields are quite different," Crampton says.
Graduate students in all three departments that make up the Graduate Group serve on the committee, and students at all stages of their graduate-school careers are welcome to participate.
Each biennial seminar's overarching topic is chosen by a vote of all the students in the graduate group, and the entire group is also invited to nominate and endorse candidates for the keynote-speaker role.
"Darra Goldstein was our top choice," Crampton says. "We are delighted that she accepted!"
Crampton says that organizing the conference has given her invaluable professional experience. "I hadn't had a lot of leadership experience, so this took me a little bit outside my comfort zone," she says. "It is an incredible opportunity to learn about how the academic world works behind the scenes."
Crampton hopes that undergraduates will be well represented in the audience as well. "If you're considering an academic career, this is a great way to see what kinds of opportunities you might have as a graduate student."
This year's Graduate Group symposium is dedicated to the memory of Phyllis Pray Bober,  who "recognized the important relationship between food and culture and found joy in sharing her passion for food studies with her colleagues and students." Bober served as dean of the Graduate School of Arts and Sciences at Bryn Mawr College from 1973 to 1980 and held dual appointments in the Departments of Classical and Near Eastern Archaeology and History of Art. She was renowned for preparing feasts based on ancient banquets in her own kitchen and providing seminars on historical cuisine. In 1999 she published Art, Culture, and Cuisine: Ancient and Medieval Gastronomy, and a second volume was in progress when she died.
Comments Off

on Grad Group to Host Eighth Biennial Symposium, Titled "Feed Your Head: Food as Material and Metaphor"