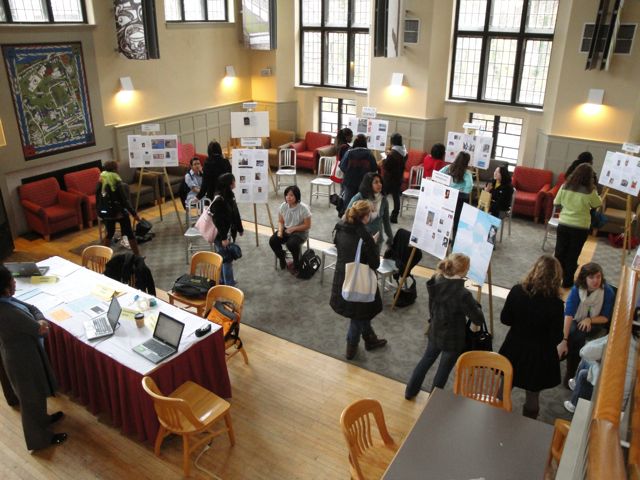 Last summer, some Bryn Mawr students traveled to Wyoming to collect data that may help determine how mountain ranges came to be distributed across western North America. Another spent time in Paris and Chicago, comparing the effects hosting World's Fairs in the late 19th century had on the two cities' development. Others worked to improve perinatal care in Malawi, reported local news in North Carolina, and examined the use of deliberate misspellings to represent dialect in the work of Latin authors of the first century BCE. Some spent most of their time in labs at Bryn Mawr, where they taught humanoid robots to play soccer, explored the anti-tumor potential of a compound synthesized in the lab, or applied mathematical modeling to the valuation of stock options.
More Stories and Info About Summer Funding
One thing these widely divergent summer activities had in common: they were all made possible by the College's Summer Funding Office. Assistant Dean and Director of Summer Funding Isabelle Barker helps students identify which of the many funding options available can support their plans for research or internships.
Next Friday, Nov. 4, a Summer Funding Fair in the Campus Center will offer Bryn Mawr students an opportunity to learn about these opportunities from students who received funding last summer. Posters illustrating Bryn Mawr-funded summer experiences will be on display from 11 a.m. to 5 p.m. Students who received funding this past summer will be on hand to talk about their experiences from noon to 2 p.m. The Dean's Office and the Bi-College Career Development Office are co-sponsoring the event, which is free and open to all.
Intrigued by internships? Take it a step further on Tuesday, Nov. 8, from 6:30-8 p.m., when a workshop titled "Finding and Funding Your Internship"  will offer solid advice to students who are interested in pursuing that path.
Comments Off

on Opportunity May Knock at Summer-Funding Fair