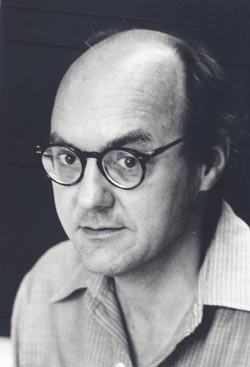 Members of the Bryn Mawr community are invited to attend a memorial gathering for retired Professor of Mathematics Frederic (Ty) Cunningham on Saturday, Nov. 12, at 3 p.m. in the Ely Room of the Wyndham Alumnae House. Cunningham passed away on Sept. 28, just a few weeks after celebrating his 90th birthday.
Cunningham (Sept. 6, 1921-Sept. 28, 2011) taught in the math department at Bryn Mawr from 1959 until his retirement in 1996. Following his retirement, he continued at the department's invitation to teach a senior-conference seminar for several years. Most days he taught, Cunningham could be seen riding his bike from his home in Haverford to Bryn Mawr's campus.
"When Ty hired me in 1980, he was rebuilding the department after the retirement of the great John Oxtoby," recalls Professor Emeritus Rhonda Hughes. "Ty had a vision for mathematics at Bryn Mawr, and that he allowed me to be a part of that vision was a defining moment in my life.
"Ty was a true gentleman, always respectful of people and their views. He was frugal with the earth's resources, and he championed the common good. His positions came from a deep sense of integrity and social justice. I learned from Ty to cherish Bryn Mawr and its history, and to take seriously my position as a steward of mathematics for its wonderful students."
Cunningham played an instrumental role during his time at Bryn Mawr in building up the math department to its present stature, and he was particularly committed to hiring women and to honoring and promoting womens' contributions to mathematics.
He cared deeply about civil rights, justice, and fairness for all and was an example of integrity and of putting his principles into action in a way that always reflected his thorough consideration of all sides in any given case, colleagues say. In life as in math, he would not reason from any unexamined assumption or skip any essential step in an argument or a decision.
In addition to his passion for mathematics, Cunningham had a deep love of music. He played the tenor viol in consort ensembles, along with his wife Caroline, as well as the lute and keyboard, and amassed a fascinating collection of early musical instruments of every kind.
He is survived by his wife, Caroline Manning Cunningham (Bryn Mawr class of 1946), three daughters, Sarah, Mary, and Constance, and two grandchildren, Emily and James Corran.
Comments Off

on Memorial Gathering for Retired Professor of Mathematics Ty Cunningham Set for Nov. 12