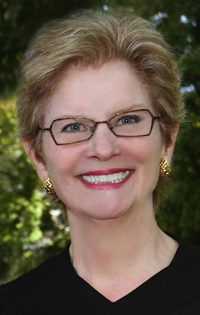 Bryn Mawr College President Jane McAuliffe is among the higher education leaders from the United States and the United Kingdom gathering at Windsor Castle in England this week to explore how existing U.S.-U.K. partnerships can expand to include the higher-education sectors in rapidly developing nations.
The meeting has been dubbed "The Higher Education Policy Forum" and began Wednesday with the announcement of a $500,000 fund for the inclusion of the United States into a strand of the U.K.-India Education and Research Initiative, a bilateral program launched in 2006 by the U.K. and Indian governments.
The forum is intended to advance the $1 billion U.K.-U.S. higher education relationship beyond bilateral dialogue and deliver a new multilateral approach that reflects the rapid expansion of higher education around the world.
"The longstanding relationship shared by U.S. colleges and universities and those in the U.K.  will always be especially close," says McAuliffe. "Our institutions  and programs are among the best in the world so we are well placed to leverage the strength of our existing connections  through partnerships and collaborations that can enhance higher education in other parts of the globe in ways that are mutually beneficial to all participants."
Heading the U.S. delegation at the forum will be New York University President John Sexton. U.S. Under Secretary for Education Martha Kanter, and U.K. Minister for Universities and Science David Willetts will also attend.
Many of the issues being discussed at the forum are ones which McAuliffe has been deeply involved with in recent years.
This month McAuliffe attended the first U.S.-India Higher Education Summit in Washington D.C. In March of 2010 she joined U.S. Under Secretary of Education Kanter and senior officials from 13 other colleges and universities on a delegation that traveled to India to promote U.S. higher education and to enhance and expand linkages with Indian institutions. From 2008 to 2009 she served with Sexton and others on the U.K./U.S. Study Group on Higher Education in a Globalized World.
The forum is sponsored by the British Council and supported by the U.K. Higher Education International Unit, Universities UK, the Council for Higher Education, New York University, and the Institute of International Education.
Comments Off

on Bryn Mawr President Joins Higher Education Leaders in England for Forum on Global Collaborations