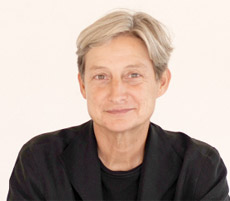 Preeminent gender theorist Judith Butler will give three public lectures as part of the 2011 Mary Flexner Lectureship at Bryn Mawr College. The lectures draw on Butler's new work, tentatively titled Gender Politics, Alliance, and the Right to Appear.
All seats in Goodhart Hall for the Judith Butler Flexner Lectures have been reserved. To register for the wait list and for information about possible seating availability on the nights of the lectures go to the Flexner website.

The lectures will be the first three Mondays of November: Nov. 7, 14, and 21 at 7:30 p.m., and take place in the McPherson Auditorium, Goodhart Hall, on the Bryn Mawr College campus.
Lectures:
Nov. 7 "Gender Politics and the Right to Appear"
Examines how the right to appear challenges certain conceptions of the public sphere, and why gender and sexuality are crucial for thinking about what counts as public, and whose actions are considered political.
Nov. 14 "Bodies in Alliance & the Politics of the Street"
Offers a way to think about political mobilization that does not stay restricted to the specific interests of a given identity. Rehearsing the important distinction between "queer" politics and gay-and-lesbian-rights frameworks, Butler asks whether there can be a mobilization for the right to marry without a critique of the institution of marriage, or a right to serve in the military without a critique of contemporary forms of militarization.
Nov. 21 "Toward an Ethics of Co-Habitation"
Butler argues that without the right to appear in public, populations become precarious, deprived of legal recognition and enfranchisement, but also subject to social and psychic forms of injury. "If we consider the precarity of populations who suffer deprivations such as these, we are confronted with "queer" – in the sense of unexpected – alliances," writes Butler.
Butler is the Maxine Elliott professor in the rhetoric and comparative literature departments at the University of California, Berkeley, and has contributed greatly to the fields of feminism, queer theory, political philosophy, and ethics during her scholarly career.
Established in honor of Mary Flexner, a Bryn Mawr graduate of the class of 1895, the Mary Flexner Lectureship has brought some of the world's best-known humanists to campus for a brief residency.
Facebook users can invite friends and let others know they're attending (tickets still must be obtained through the Flexner website).
Comments Off

on Judith Butler's Flexner Lectures: One Hot Ticket