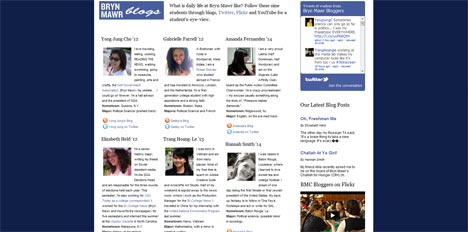 What is it like to live in a Bryn Mawr dorm? What do you do on the weekends? Is it hard to participate in athletics?  Can you work out even if you're not an athlete? Where do you find a faith community? Are there opportunities for activism, public service, and career exploration? What was the biggest challenge you faced during your first year? The dumbest thing you ever did? Can you find vegan food at the dining hall? Is it easy to get to Philadelphia? New York? Were you homesick at first? How has Bryn Mawr changed you?
These burning issues — and whatever else preoccupies Bryn Mawrters from day to day — are the primary subject matter of Bryn Mawr Banter, a webpage that offers a glimpse of everyday life at the College. Nine student blogs anchor the program, which also offers opportunities to make connections through Twitter, Flickr, and (soon) YouTube.
The page presents a brief biographical sketch of each blogger, with a link to each student's blog and Twitter page. The group's most recent Tweets, blog headlines, and Flickr photos run down the right side of the page, followed by a short online form where prospective students may submit questions to admissions officers. Diverse in terms of geography, academic interests, career aspirations, and other variables, the Banter bloggers all share a willingness to communicate the highlights and struggles of their daily lives with visitors. Readers are welcome to comment on blogs and follow Banter bloggers on Twitter and Flickr.
The first two weeks of the semester have produced blog posts about gaining the confidence to begin studying Elementary Russian as a senior, the powerful sense of community inspired by chanting in ancient Greek, a challenging trip to Tibet that was an unexpected assignment during a summer internship, baking challah for charity in the SGA kitchen, a summer mishap involving a parent's car, making good on a long-deferred resolution to take a dance class, nostalgia for the site of last year's study abroad, the literal and figurative hurricane of activity at the beginning of the semester, the solid advice to keep trying new things, and more.
Please feel free to join the conversation!
Comments Off

on Bryn Mawr Banter: Join Conversations About Life at BMC