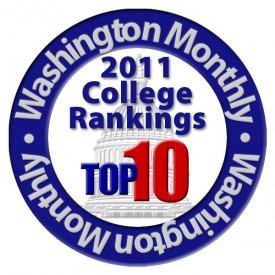 With an overall score of 96 out of 100, Bryn Mawr College is ranked #3 among liberal arts colleges in Washington Monthly's rankings of colleges and universities that "encourage students to give something back."
From the introduction:
"Conventional rankings like those published by U.S. News & World Report are designed to show what colleges can do for you. Since 2005, our rankings have posed a different question: What are colleges doing for the country? Higher education, after all, isn't just important for undergraduates. We all benefit when colleges produce groundbreaking research that drives economic growth, when they offer students from low-income families the path to a better life, and when they shape the character of future leaders."
The entire Washington Monthly College Guide is available online.
Comments Off

on Bryn Mawr Ranked #3 Among Liberal Arts Colleges in Washington Monthly's List of Schools that "Give Something Back"