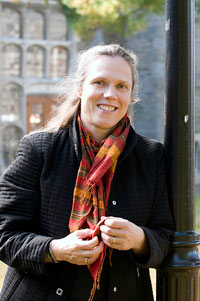 As the number of students who come to Bryn Mawr from outside the United States has increased over the past few years, Carola Hein, a professor in the Growth and Structure of Cities Department, has become ever more acutely aware of a particular shortcoming in textbooks on modern architecture and urban form.
"Buildings outside of the United States and Europe receive only limited attention in histories of modern architecture," Hein says. When they do appear, they are generally presented as the result of a one-way transmission of EuroAmerican ideas to the developing world. "Non-Western architecture and design ideas or theories are usually presented as regional side stories and not as a main part of the history of modern architecture," says Hein.
Even when non-Western buildings are included, "there is little examination of how these buildings got there, or what happens to ideas when they travel," Hein says. "Buildings that appear on the other side of the globe are rarely exact copies of distant models. They incorporate local needs and design ideas, which in turn often have an impact on the Western architects who design them. That cultural exchange disappears in most histories of modern architecture," she explains.
Thanks to a Teaching Development Fellowship from the National Endowment for the Humanities, Hein was able to redesign her syllabus for Cities B254, History of Modern Architecture.  The course will now give students a grounding in theories of cultural exchange and incorporate considerably more geographic range than standard textbooks on the topic do.
A key asset in teaching the redesigned course, says Hein, is Bryn Mawr's geographically diverse student body. The course syllabus notes that "students with foreign language and/or culture background are particularly invited to enrich the course by using their specific knowledge."
Hein's reading list for the course balances readings on buildings that are at the core of modern architectural history books with publications on less-known architecture in all corners of the world. Throughout the course she invites students to investigate non-western publications. Hein hopes that students will complement her knowledge of German, French, Spanish, Italian, Dutch, and Japanese, and work on articles in languages such as Chinese, Turkish, or Arabic.
She hopes that students who are native speakers of these languages will help her fill in the gaps in traditional textbooks, illustrating cultural transmission as the course ponders it.
Comments Off

on Cities Professor Uses NEH Grant to Focus Modern-Architecture Course on Cultural Exchange, Citing International Students as Inspiration and Asset