With laundry baskets, laptops, pillows, books, clothes, and everything else needed to transform a dorm room into a home, the 364 members of the Class of 2015, many with families in tow, have arrived at Bryn Mawr for Customs Week.
The Class of 2015 hails from 35 states and the District of Columbia, and from 39 foreign countries: Austria, Bangladesh, Bhutan, Brazil, Canada, China, Ecuador, Estonia, Germany, Haiti, Hong Kong, Iceland, India, Italy, Jamaica, Japan, Korea, Malaysia, Mexico, Nepal, Netherlands, New Zealand, Nigeria, Pakistan, Palestinian Territory, Peru, Philippines, Poland, Russia, Singapore, South Africa, Sri Lanka, Tanzania, Turkey, Taiwan, United Arab Emirates, United Kingdom, Vietnam and Zimbabwe.
After spending the early part of Wednesday getting settled into their rooms, the class of 2015 took seats on the stage of Goodhart Hall as their families and friends joined them from the audience to hear welcoming remarks from Bryn Mawr President Jane McAuliffe, Dean of Admissions Laurie Koehler, Dean of the Undergraduate College Michele Rasmussen, Customs Co-heads Sarah Moser '12 and Hannah Roos'12, and SGA President Yong Jong Cho'12.
"I recognize that today represents the culmination of many long hours and a lot of work. In the last few years you've become very adept at filling out online forms and pressing the send button. You have agonized over application essays and put far too many miles on the family car as you traveled on college tours," McAuliffe said as she addressed the Class of 2015. "Now comes the reward. Now comes the moment when you leave 'school' and take ownership of your adult intellectual life.
"Some of the surroundings may seem the same as high school—the classroom furniture, the pens and pencils, the textbooks and laptops. But the life you live in these surroundings will be very different.
"The talented faculty who are the heart of this college can guide you; can open new fields of knowledge to you. But a lot of your learning is going to be self-directed and self-guided. The greatest gift you can give yourselves in these opening months of your lives at Bryn Mawr is a spirit of utter openness. The willingness to take a course in a subject you never thought you'd like. The chance to find yourself in a conversation with a friend, faculty member, or graduate student that wanders into subjects you'd never even considered. The time to simply roam through sections of the library stacks and pull down volumes at random and leaf through them."
In concluding her remarks, McAuliffe spoke to the class about the transformative effects of a liberal arts education.
"The liberal arts are the core of a Bryn Mawr education. The habits of mind and heart that you will cultivate here will free you intellectually and spiritually. They will connect you with the globe you inhabit and with the deepest parts of yourself. They will be your foundation for a future of life-long-learning and your touchstone as engaged and committed citizens of the world. How very pleased we are to be embarking on this journey with you. Welcome to Bryn Mawr."
Other events planned for Customs week include an academic fair where faculty members from virtually every department and program will provide advice on course placement, workload and paths to potential majors or careers; dinner, entertainment, and a party at Haverford with that school's Class of 2015; a student philanthropy program sponsored by Bryn Mawr's Annual Giving Office and Alumnae Association; several important information sessions with College administrators, deans, and faculty; outings to the town of Bryn Mawr and city of Philadelphia; and more.
For the full customs schedule, go to the Entering Students section of the Bryn Mawr website.
If you can't see the Flash slideshow, check out the "Welcome, Class of 2015" Photo Set on Flickr.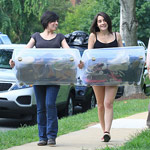 Comments Off

on Bryn Mawr Welcomes Class of 2015