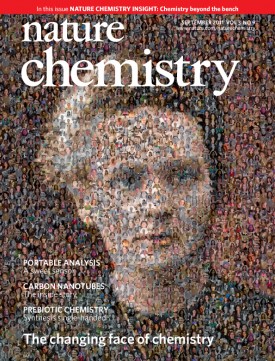 A commentary by Chemistry Professor Michelle Francl appears in the latest issue of Nature Chemistry. Francl was also involved with the creation of the issue's cover, which features images of many Bryn Mawr alumnae.
From the Nature Chemistry website…
"To mark the International Year of Chemistry and the hundredth anniversary of the award of the Nobel Prize in Chemistry to Marie Curie, this issue features a series of Commentary articles examining broader issues in chemistry beyond the science itself. As part of this collection, Michelle Francl considers how the representation of women in science has changed since Curie's day. The image on the cover comprises a mosaic of female scientists — many thanks go to them and also to Michelle who suggested the concept and collected most of the pictures."
Go here to see a larger view of the cover image and go to the Bryn Mawr College Facebook page to tag yourself or see who has been tagged.
Comments Off

on Bryn Mawr Chemistry Professor Michelle Francl Pens Commentary and Helps Produce Cover for Latest Nature Chemistry