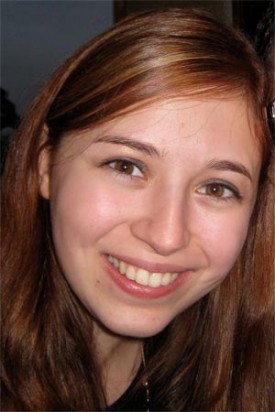 The Fulbright Commission of Turkey, the last country to make its Fulbright grant decisions, announced last week that it had awarded an English Teaching Assistantship to Didem Uca '11, who graduated from Bryn Mawr in May with a double major in German and comparative literature.
The announcement brings the total number of Fulbrights awarded to Bryn Mawr students this year to six.
Although Uca's parents are both from Turkey and she is a dual citizen of Turkey and the United States, she has never been to Turkey, and she eagerly anticipates setting foot on her ancestral homeland at last.
Uca, who was a member of the Haverford-Bryn Mawr Chamber Singers, was scheduled to travel to Turkey with the group during Spring Break of 2010, but she contracted mononucleosis and was unable to go.
"I feel like I've sort of put my heritage on hold.  My parents have always been very supportive of the many interests I've pursued, and I sort of thought, 'Well, Turkey will always be there.'  But at a certain point it began to seem almost unbelievable that I'd never been there," Uca says.
"I don't want my parents' stories and what I've read about Turkey to frame my ideas about it," she explains. "I want to go there myself. My whole family is there—there are about 20 cousins I've never met," she says. "And Turkey and Turkish people have been important topics in my academic work."
Uca says that she arrived at her academic study of Turkish subjects in a roundabout way, through her study of German literature.
She plunged into the study of German with remarkable enthusiasm and dedication, spending three consecutive summers at a German-language program at Middlebury College and studying in Germany during her sophomore year.  A short story she wrote in German was recently published in the journal of the Society for Contemporary American Literature in German – an extraordinary achievement for someone who had been speaking and writing German for only four years. This year, she was recognized for a paper she gave at an undergraduate German-studies conference, and she won Bryn Mawr's Berle Memorial Prize in German Literature.
But Uca has studied other languages as well, and she transferred to Bryn Mawr as a sophomore because she wanted to study comparative literature.
"I think it's important to be able to work comparatively. If you're working just in one culture, you only see one side of the picture. Even if the goal is just to understand your own culture, you need to be able to come at it from several angles," Uca says.
During her first semester at Bryn Mawr, she took a course with Professor of German and Comparative Literature Azade Seyhan that focused on the literature of immigrant communities in Germany.
"There is a very large and culturally important Turkish immigrant community in Germany," Uca explains. "It was really a serendipitous way of getting back to my own roots."
Although she had spoken Turkish at home as a child, Uca didn't learn to read and write in the language until she took a course in Turkish at the University of Pennsylvania as a Bryn Mawr student.
"I look forward to regaining the fluency I had when I was four years old!" says Uca, who says she still understands Turkish when her parents speak it, but usually responds in English.
Comments Off

on Didem Uca '11 Wins Fulbright to Turkey, Prompting First Trip to Homeland