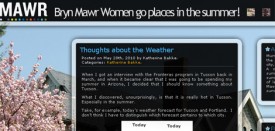 Bryn Mawr Women Go Places in the Summer. That's a fact—and it's also the name of a blog by Bryn Mawr students about research and internships they're conducting during the College's summer vacation. They're writing from (among other places) Washington, D.C.; Lusaka, Zambia; Baltimore, Maryland; Chicago; upstate New York; and Paris—Paris, France, that is—not the Paris in upstate New York.
A few of their projects for the summer:
A comparative study of Chicago and Paris (the one in France) as cities that were changed by hosting the World's Fair
An internship with the Zambia-Emory HIV Research Project in Lusaka
Research into the influence of Edgar Allan Poe on the French Symbolist literary movement
A research project examining the portrayal of Native Americans in "frontiersman" novels of the 1800s and early 1900s, specifically those that take place in the Adirondack and southern Quebec region
An internship with 826DC, a nonprofit organization that helps children ages 6-18 learn creative and expository writing skills
A research internship focused on identifying the reliable predictors of Juvenile Idiopathic Arthritis (JIA), the most common type of pediatric arthritis.
An internship with the sea-level research lab operated by University of Pennsylvania's Department of Earth and Environmental Sciences
Follow their adventures at Bryn Mawr Women Go Places in the Summer. Headlines from the blog will appear on the Bryn Mawr College homepage (click the tab marked "Summer Bloggers") throughout the summer.
Comments Off

on Bryn Mawr's Summer Bloggers Are Going Places