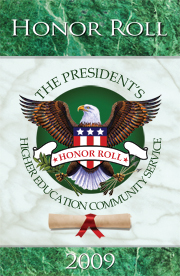 The Corporation for National and Community Service has honored Bryn Mawr College with a place on the President's Higher Education Community Service Honor Roll for exemplary service efforts and contributions to America's communities. Bryn Mawr is one of only three women's colleges nationwide that were named to the Honor Roll with Distinction.
"We at the Civic Engagement Office are always astounded at the amount of service our students perform each year.  Applying for the President's Higher Education Community Service Honor Roll gives us the opportunity to reflect on and celebrate the commitment to community service that our students demonstrate every year.  We are so proud of their hard work and dedication—it's great to have this kind of official recognition to share with the community," says Ellie Esmond, co-director of the Civic Engagement Office and director of service and activism.
Bryn Mawr College's 2010 application for inclusion on the honor roll focused on work being done through three programs sponsored by the Civic Engagement Office: the Volunteer Income Tax Assistance (VITA) Program, the Parkway West High School Partnership Project, and the Belmont Mentoring Program.
The VITA Program is a collaboration between Bryn Mawr and the Community Action Development Commission of Montgomery County. Partnering with CADCOM Since 2004, Bryn Mawr students receive training to enable them to provide free tax services to low-income residents through the program.  In 2009 – 2010, 42 students volunteered with VITA, performing almost 500 hours of service.  The student volunteers prepared 834 tax returns for area residents, returning $1.7 million to the local economy.  In addition, by providing this tax-preparation service for free, volunteers saved residents an estimated $150,120 in tax preparation costs.
Bryn Mawr's partnership with Parkway West High School, now in its third year, increased in depth and scope during the 2009-10 year with over 120 students participating in the partnership as volunteer or service-learning students during the academic year. Also key to the project's success was the involvement of 15 faculty and staff members from departments across campus who contributed their time to enhancing the reciprocal relationship between Bryn Mawr and the school.
Examples of Bryn Mawr's involvement at PWHS include:
Bryn Mawr admissions staff and students led on-campus college awareness trips for incoming PWHS 9th graders and information sessions and panels for classes of 10th and 12th graders.
Bryn Mawr faculty and PWHS teachers created curriculum for a series of classes taught to combined classes of students from each school.
A cohort of college students mentored and tutored PWHS seniors on their mandatory senior research projects.
Over 100 PWHS students, roughly 1/3 of the school, visited Bryn Mawr's campus at least once to participate in college classes and/or meet with admissions staff.
"Growth of the Parkway West partnership was due in large part to Zanny Alter '09, whom we were able to bring in as a full-time program coordinator thanks to an Americorps VISTA grant," says Esmond. "Zanny was also integral in supporting the mural-arts course that connected BMC and PWHS with the Philadelphia Mural Arts Program and resulted in the Pioneering Women mural dedicated this spring."
In 2009 – 2010, 25 Bryn Mawr volunteers mentored 23 students in grades 2 – 6 at Belmont Charter School in West Philadelphia, performing 530 hours of service.  The Belmont Mentoring program is in its fifth year and is an example of one of Bryn Mawr's thriving long-term partnerships. Students met at least once weekly with their mentees at Belmont Charter School during the academic year during Belmont's after-school programming, and the Belmont students visited their mentors at Bryn Mawr twice a year.  Mentors provided academic support and homework help, encouraging academic achievement among their mentees. In addition, Belmont Charter School reported a 44 percent decrease in behavior referrals and a 36 percent decrease in truancy for their students in the program.
Community-based work-study placements for 2009-10, which were also included in the honor roll application, included:  Latin American Action Committee of Montgomery County, the Campaign for Working Families, the Attic Youth Center, the Women's Medical Fund, and the Center for School Success.
All in all, 1,090 Bryn Mawr undergraduate and GSSWSR students put in a total of 102,953 hours of community service.
Launched in 2006, the Community Service Honor Roll is the highest federal recognition a school can achieve for its commitment to service learning and civic engagement. The award is based on a number of factors, including scope and innovation of service projects, percentage of student participation in service activities, incentives for service, and the extent to which the school offers academic service-learning courses.
The Honor Roll is a program of the Corporation for National and Community Service, in collaboration with the Department of Education, the Department of Housing and Urban Development, and the President's Council on Service and Civic Participation.
Comments Off

on Bryn Mawr Named to Community Service Honor Roll for Third Consecutive Year