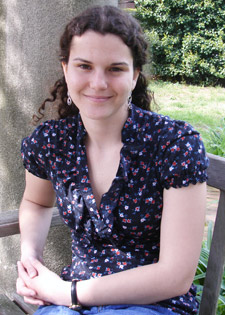 Elaine Lavin '11, a psychology major from New York City, has become the third member of the Bryn Mawr College Class of 2011 to be awarded a Fulbright English Teaching Assistantship.
Lavin, who will be teaching English in Taiwan, joins Gretchen Knoth, who will spend her year in Indonesia, and Alicia Steinmetz, who will teach in Slovakia, as recipients of the prestigious Fulbright English-teaching grants.
Lavin became interested in teaching English during a semester abroad in Beijing. There, she volunteered teaching English to migrant children whose parents had moved from rural to urban provinces seeking work.
"Teaching English is really hard," said Lavin, reflecting on the experience. "Just because you're a native speaker doesn't mean you can teach it."
As a teacher, Lavin, says, she had to "throw all my expectations about schooling out of the window." One day she passed out a worksheet and the children didn't know what to do with it; instead of filling in the blanks, they folded the sheet into airplanes.
"They just had notebooks, textbooks, but not the copiers and paper to produce worksheets. It was something I took totally for granted."
Lavin's Chinese roommate, who was studying to be an English teacher, also fed her interest in teaching English in China.
"I spent a lot of time talking to her about learning English in China and how it was taught."
Her experience in Beijing made Lavin want to return to China to learn more. Although the Fulbright does not offer ETA positions in mainland China, its assistantships in Taiwan seemed like an ideal opportunity.
"I was interested in going back to a Chinese-speaking country and learning more about the country and the culture," said Lavin. "My understanding is that Taiwan, because it hasn't had the influence of communism, retains many elements of traditional Chinese culture that have disappeared in mainland China."
She also expects teaching in Taiwan to differ from from her experience in mainland China because Taiwan is a highly developed nation.
Lavin will teach in Yilan County in Northern Taiwan.
"I will be teaching at one or two elementary schools. I'll be in the classroom for 20 hours a week and spend 15 hours a week assisting Taiwanese teachers and working on other projects," Lavin reports.
"I am going to be co-teaching with a Taiwanese teacher the whole time. I will help her design lesson plans, and while she will teach most of the grammar, I can help teach idiomatic expressions and aspects of American culture. It's stuff like that that makes having a native speaker in the classroom important."
Lavin has worked at the Phebe Anna Thorne School, served as a peer mentor, and taken an education course at Bryn Mawr. While she enjoys teaching, she hopes to one day become a psychologist.
"I see it all as relevant to a future career in psychology," she said.
Lavin knows her year as a Fulbright teacher will be challenging, but she is excited about the opportunity to improve her Chinese and to give Taiwanese students a better understanding of America than the stereotypes portrayed in the media.
"I was once told I didn't seem American because I don't like McDonalds and don't drink soda. I think of it as a personal mission to combat those ideas," said Lavin.
"I want to get to know people, to know the community. It's something that I want to do, and it's also the overall mission of the Fulbright Program."
—Katherine Bakke '11
Comments Off

on Elaine Lavin '11 Awarded Fulbright English Teaching Assistantship