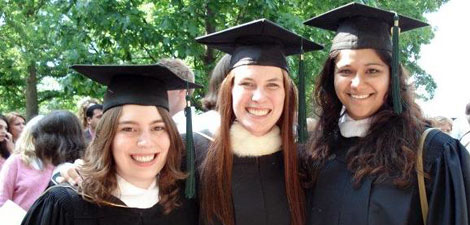 Bryn Mawr's class of 2011—325 undergraduate students from throughout the United States and the world—will be graduated at 2 p.m. on Saturday, May 14, on Merion Green. The College's Graduate School of Arts and Sciences will be granting nine doctorates and 24 master's degrees. Bryn Mawr's Graduate School of Social Work and Social Research will award 70 degrees as well.
Dance icon Judith Jamison, choreographer and artistic director of the Alvin Ailey American Dance Theater, will give the Commencement address and receive the M. Carey Thomas award.
Bryn Mawr's highest honor, the M. Carey Thomas Award has been given only 18 times since 1922. Past recipients of the award, which is named after Bryn Mawr's long-serving second president and given to American women for eminent achievement, have included Jane Addams, Eleanor Roosevelt, Georgia O'Keefe, and Bryn Mawr alumna Katharine Hepburn.
This year Bryn Mawr will implement a Friday/Saturday schedule instead of the Saturday/Sunday schedule of years past. The new schedule will feature the graduation speaker addressing students during the commencement ceremony. Garden party, to be enhanced with new food and tables for guests, will follow commencement on Saturday afternoon. For complete details and information about the weekend's events, go to the convocation and commencement homepage.
Among those graduating will be a number of academic award winners who have been featured in Bryn Mawr Now, including Gretchen Knoth, Alicia Steinmetz, and Briana Bellamy.
A number of other graduating seniors have shared their post-graduation plans.
Got plans after graduation that we missed?
Share them on the BMC Facebook page

Continuing her academic studies is Rebecca Rebhuhn-Glanz, who will be attending the math Ph.D. program at the University of Michigan, Ann Arbor. Joining her will be Arielle McInnis Simoncelli and her freshman year roommate, Amee Vora. Simoncellie will be at the school of public health and Vora will be attending the law school.
Romanian student Iona Dumitru will remain in the U.S. as a Ph.D. candidate in Johns Hopkins University's Near Eastern Studies department. Further down Interstate 95, Nina Jankowicz will be pursuing her M.A. in Russian, Eurasian, and East European Studies at Georgetown's School of Foreign Service.
Laura Cohen will return to her native Southern California to pursue her master's in civil engineering at USC. Crystal Leonard will stay local as she begins her studies toward becoming a physician at the University of Pennsylvania School of Medicine.
Marina Kec will participate in the  American Councils Russian Overseas Flagship program in St. Petersburg, Russia.
Students entering the work world include Juliana Reyes, who will be a city services beat reporter for It's Our Money, a project shared by The Philadelphia Daily News and Philadelphia public radio and television affiliate WHYY.
Alexis Egan is traveling a bit further for her first job . She's heading to Qatar to serve as an assistant Pre-Kindergarten teacher at the Qatar Academy Al-Wakra, outside of the capital Doha.
History of Art major Larissa Rubic got accepted into graduate school but has decided to work for at least a year first. She's been hired as the associate registrar at Forum Gallery in New York City.
Lexi Bishop, who majored in Russian and minored in history of art will be interning at the Brant Foundation in Greenwich, Conn. Kristen Magnunson will be interning with the New York State Health Department AIDS Institute.
Students taking part in Teach for America include Zandra Martinez, who is going to Baton Rouge, LA, and Sophie Papavizas, who will be teaching secondary math in Memphis, Tenn.
Comments Off

on Class of 2011 To Receive Degrees and Celebrate Commencement Weekend