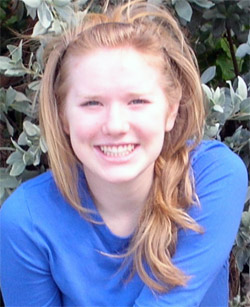 After graduation, Gretchen Knoth '11 will pack her bags for Indonesia, where she will spend a year teaching English to secondary-school children, supported by a Fulbright English Teaching Assistantship.
Knoth, a double major in anthropology and Italian from Portland, Maine, started her Fulbright application in July 2010. The three-round application process, which begins with a preliminary application through Bryn Mawr followed by submission of two applications to the Fulbright Program itself, is lengthy and competitive.
"I wanted to participate in a program abroad," said Knoth. "I had originally thought about applying to the Watson Fellowship [a one-year grant to fund independent research abroad], but I wanted something more structured. Dean [Michelle] Mancini recommended the Fulbright ETA to me.
"I wasn't really interested in doing a research-based fellowship abroad, so the Fulbright ETA sounded perfect," she said.
Although Knoth does not intend to pursue teaching professionally, she is interested in a career in the field of education and is excited about what she'll learn as head of a classroom.
"I am interested in implementing academic programs in developing countries," said Knoth, who hopes to work in an international development firm upon her return to the United States in 2012.
Indonesia seemed like a logical choice given Knoth's interest in international development.
"I've been fortunate to study Indonesia in several classes at Bryn Mawr. In the fall of my junior year, I took an economic-development class with Professor [Michael] Rock. There were five papers for the course, each of which focused on different economic and political aspects of the same country. I wrote about Indonesia."
"That class was probably one of the most influential courses I took at Bryn Mawr. It identified how all my interests connect," reflected Knoth.
Knoth is waiting to hear back from the Fulbright Program about the specific location and school where she will be living and working. She's hoping to live in an urban area, and is anxious to learn about Indonesian culture.
"In Professor Rock's course we learned about political history and how it affected economic development in developing nations like Indonesia. In terms of culture, I have a lot of work to do. I have a lot to learn once I arrive."
Fortunately, the Fulbright Program sponsors an orientation for new ETAs in their host country.
Some ETA positions allow teachers to conduct independent research, but placements in Indonesia prohibit research due to visa requirements. Knoth plans to become involved with local nonprofits instead.
"I'm interested in doing something that promotes educational programs. It could be as simple as improving the educational institution I'm working at, like holding a book drive or painting classrooms."
Also interested in microfinance programs, Knoth hopes to assist community loan organizations. "I know I will become involved in something outside of the classroom."
Unsure of what to expect but optimistic nonetheless, Knoth is looking forward to her arrival in Indonesia.
"I've never spent this amount of time in a developing country; I've never been to Southeast Asia either. I'm excited to be in a classroom with children who are having such different experiences than those that I had as a student. I'm nervous for all of it, but I'm also excited for all of it too!"
—Katherine Bakke
Comments Off

on Senior Gretchen Knoth Awarded Fulbright English Teaching Assistantship in Indonesia