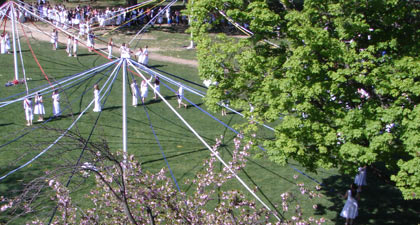 One day a year, Bryn Mawrters are urged to cease working hard and begin hardly working: at the College's annual May Day celebration students eschew books and papers, even in the face of approaching finals week, to frolic on the grass. For several years, Bryn Mawr's May Day celebration has been held on the Sunday following the last day of classes. This year, that falls on the traditional date of May Day: May 1.
Most of the day's events—which include numerous performances as well as singalongs and other participatory activities—are free, and most are open to the general public. The festivities usually draw a substantial crowd from the surrounding community, as well as friends and family of Bryn Mawr students, faculty, staff and alumnae/i.
The celebration begins at 5:45 a.m., when sophomores awaken seniors with flower baskets and song. A mix of old and new traditions, the day includes a Hoop Race that predicts who will be the first to earn her doctorate. In addition to the traditional Maypole event, students in the mid-1980s added a wryly feminist response know as the May Hole Dance, celebrating women's liberation through the symbolic releasing of thousands of flower petals into the air.
This daylong re-enactment of the Elizabethan rite of spring ends with the screening of The Philadelphia Story, starring Bryn Mawr's most famous graduate, Katharine Hepburn '28. The next morning, final exams begin.
The schedule of the day's public activities, excerpted from the traditional May Day program (the abbreviation "RS" stands for "rain site"):
| | |
| --- | --- |
| 9 a.m. | Ye Morris Dancers and ye Points of Etiquette perform in front of Pembroke Arch RS=TGH. |
| 9:15 a.m. | Senior march to ye Senior Steps to watch the parade |
| 9:30 a.m. | Ye Grande Processional with the President of the College, the May Queens, Traditions Mistresses, Song Mistresses, Worthies and Princes and Princesses of the Court, and May Pole Dances RS=TGH |
| 10 a.m. | May Pole Dancing on ye Merion Greene by the four classes, McBride Schollers and Graduate students. Ye President and ye May Queens deliver humorous speeches. RS=TGH |
| 10:30 a.m. | Senior May Roll Hoop Race down ye Senior Row. |
| 11 a.m. | May Hole Dancing on ye Denbigh Greene. |
| 11:15 a.m.-1:15 p.m. | A picnic lunch is served on ye Erdman Greene. RS=Erdman Lobby, Living and Dining Rooms |
| 11:30 a.m. | Scottish Country Dancing on ye Merion Greene. RS=Goodhart Music Room |
| 11:30 a.m. | Traditional King Arthur play in ye Taft Garden. RS |
| noon-1 p.m. | Tall Painting on ye Erdman Greene with the Art Club and Nimbus |
| noon | A Capella Concert on ye Carpenter Roof featuring Acabellas, Chaverim, Counterpoint, Extreme Keys, Humtones, Lavender's Blue, Looney Tunes, Night Owls, and S-Chords. RS=TGH |
| noon-3 p.m. | Henna Tattoos, Airbrush Tattoos, Face Painting, Personacards, and Create a Kite in front of ye Canaday Library. RS=Lusty Cup |
| noon-3 p.m. | Mega Bouncy Dome and Velcro Bungee Race on ye Merion and Denbigh Green |
| noon-5 p.m. | Hot Wings, Spring Rolls, Cotton Candy, and Snow Cones available in ye Campus Center |
| noon-5 p.m. | T-shirt sales in front of ye Campus Center. RS=Campus Center Foyer |
| 12:30 p.m. | Greek play in ye Sunken Garden RS= Dorothy Vernon Room |
| 12:30 p.m. | African Dance Session on ye Taylor Drive. |
| 1 p.m. | Hula Dancing on ye Thomas Greene. RS=Pembroke Dance Studio |
| 1 p.m. | Rugby Sing-Along on ye Denbigh Greene. RS=Denbigh Living Room |
| 1 p.m. | French Class Performance in ye Taft Garden RS=Campus Center |
| 1:30 p.m | Salsa Dancing with Bryn Mawr/Haverford Salsa in ye Campus Center |
| 2 p.m. | Belly dancing on ye Denbigh Green. RS=Pembroke Dance Studio |
| 1:30 p.m. | Ye Old Robin Hood Play at ye Taft Garden. RS=DVR |
| 1:30 p.m. | Folk Sing in ye Rock Arch RS= Denbigh Dance |
| 2-5 p.m. | Concert on ye Merion Greene. RS=Goodhart Theater |
| 2 p.m. | Lighted Fools Performance on ye Carpenter Roof. RS=Quita Woodward Room |
| 2:30 p.m. | Gymnastics Performance by the Gym Owls in ye Campus Center. |
| 2:30 p.m. | St. George and the Dragon Play at ye Sunken Garden. RS=Gateway Conference Room |
| 2:30 p.m. | Yalah! Belly Dancing on ye Pembroke East Greene. RS=Pembroke Dance Studio |
| 3 p.m. | Flute Choir performs in ye Campus Center Mezzanine. |
| 4:30 p.m. | Performance by the Shakespeare Performance Troupe in ye Taft Garden. RS=DVR |
| 4:30-7 p.m. | May Day dinner on ye Erdman Greene. |
| 5 p.m. | Fashion Show of Bryn Mawr Through the Ages on ye Erdman Greene with Hepburn's Closet. RS =TGH |
| 8 p.m. | The last Step Sing of the year on ye Senior Steps. RS=TGH |
| 10:45 p.m. | Traditional showing of The Philadelphia Story, starring Katharine Hepburn '28, in Thomas 110. |
Comments Off

on May Day 2011 Scheduled for May 1