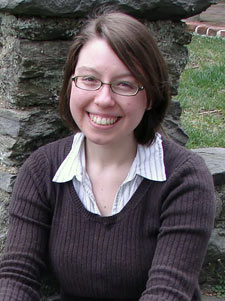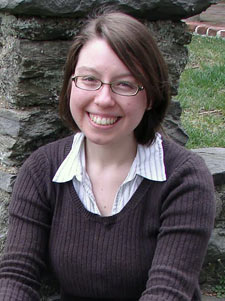 Maeve Doyle, a Bryn Mawr Ph.D. candidate in history of art, has discovered an interesting wrinkle in the history of Western portraiture. In northern France in the decades just before and after 1300, Doyle says, some devotional manuscripts — books of sacred writings intended to guide religious practice — began to include multiple portraits of their owners.
Doyle will use a Fulbright research fellowship to spend next year in France investigating this phenomenon, which sits at the intersection of important developments in the histories of literacy, religion, gender relations, and Western conceptions of selfhood and identity.
"It is not uncommon for an owner portrait to appear once or twice in a book of this period," says Doyle, "but in several manuscripts from this particular region, they appear everywhere – in page margins, in large illuminated capital letters at the beginning of sections, and occasionally in smaller capitals. In some books, there are upwards of 100 owner portraits."
The portrait-heavy books Doyle has identified are limited to a specific geographic locale and time period, but they are not all from the same workshop: "Different hands can clearly be distinguished," she says. "I suspect that it points toward some sort of larger social interest or phenomenon."
Although books illustrated with multiple portraits of their owners are highly personalized objects, the portraits themselves can seem strangely impersonal to modern eyes. Like most medieval portraits, they do not rely on physical likeness to identify their subjects, but on "markers such as gender, context, pose, heraldry, and attire," says Doyle.
A few decades after these books were produced, European portrait art began a long-term movement toward physical likeness, a development often linked by historians to a new emphasis on the individual in the intellectual framework of the Renaissance.
"These manuscripts were produced at the moment right before the discourse of likeness arises," Doyle says.
Her research will address the "theological, social, and personal significance" of these portrait illustrations to the wealthy patrons who commissioned the books in which they appear and place them in the larger context of European portraiture — and the intellectual and social history it can help illuminate.
A Pilgrimage to the Source Materials
Doyle feels well prepared for her year of intellectual exploration in France. Although she has never lived in France, she began studying the French language in middle school and achieved fluency years ago. Recently, she says, reading a good deal of French literature has helped her brush up.
Doyle has also gained an impressive degree of familiarity with her subject over the course of her academic career to date. As an undergraduate at Vassar College, she was a double major in art history and medieval and Renaissance studies. Her senior thesis focused on an early printed book of hours in Vassar's collection.
At Bryn Mawr, she has continued to pursue her interest in late-medieval and Renaissance art and culture. Owner portraits in manuscripts first began to intrigue her when she took a course called "The Margins of Medieval Art."
"There are a lot of strange things going on in the margins of late medieval books," Doyle says. "There are monkeys doing very profane things right next to images of the Virgin and Child, for instance."
"Marginal images often included owner portraits, and I wondered why they were sharing space with monkeys. Then I noticed that women are often portrayed holding books in these marginal illuminations, whereas it was rare for men to be shown with books in that context," Doyle says.
She wrote a paper examining this gender-based difference. The topic eventually became the subject of her master's thesis, a study of owner portraits in a devotional manuscript produced in about 1300.
Now she is eager to dive into the archives and libraries of France, she says. During her Fulbright year, Doyle will conduct thorough examinations of several of the manuscripts in her group.
She will also immerse herself in the theoretical and iconographic research that will guide her interpretive analysis of the works she plans to study.
"In France, I'll have access to research materials that just aren't available elsewhere," Doyle says.
The Fulbright fellowship is sure to open doors for her. It is an auspicious beginning for a young scholar who has aspired to an academic career since she discovered, in a ninth-grade English class, the fascination and delight of critical analysis.
It is also an inspiration to the students in History of Art 104, "Critical Approaches to Visual Representation: The Classical Tradition," in which she serves as a teaching assistant to Professor David Cast.
"They were so thrilled to hear about this," Doyle says. "I was really touched by their excitement."
Comments Off

on Fulbright to Fund GSAS Student Maeve Doyle's Dissertation Research in France