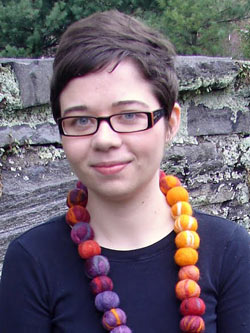 Angélique Wille, a Ph.D. candidate in history of art, envisions a career in museum work. She will gain valuable insight into the field next year at one of the world's premier art museums, as the 2011-12 Slifka Foundation Interdisciplinary Fellow at the Metropolitan Museum of Art in New York.
The Slifka fellowship is unusual in that it offers an introduction to the scientific and technical methods used by art conservators as well as access to the Met's superb collections and the mentorship of an eminent expert in Northern Renaissance art. The Slifka fellow is expected to conduct both art-historical and technical research on the Met's Northern Renaissance collection, assisting curator Maryan Ainsworth.
The position is ideal for Wille, whose dissertation research will investigate both the production of a type of Northern Renaissance painting and the way those paintings are presented in museums today.
A native of Belgium who grew up primarily in the United States, Wille was drawn to Flemish and Netherlandish art early in her academic career. Her initial interest in the subject was sparked by a desire to embrace her cultural heritage, she says, but she stayed for the art.
"I'm sure that I was first attracted to Northern Renaissance art because it was the art of my country," she says, "but I wouldn't have continued in the field if I didn't find it visually compelling and a fascinating topic of study."
As an undergraduate at Columbia University, Wille wrote a senior honors thesis on the mutual influence of Italian and Flemish artists during the era of Jan van Eyck.
Wille has continued to focus on Flemish and Netherlandish art in her graduate study at Bryn Mawr, and she earned her master's degree with a thesis on marginal aspects of the paintings of Hieronymus Bosch—both the physical margins of the painting and the socially marginalized people depicted in them.
Another crucial aspect of Wille's training at Bryn Mawr is the experience she has gained in working with the College's collections of rare books, art, and artifacts, as well as a course on curatorial issues taught by Art and Artifacts Curator Emily Croll.
"I was interested in museum work when I applied to graduate school," Wille says, "but I wasn't sure that it would suit me as a career. Working with the College's collections is what made me certain that I wanted to work as a museum curator."
Wille's curatorial experience began in special collections, where she co-curated the exhibition Darwin's Ancestors: Tracing the Origins of the "Origin of Species", which commemorated the 150th anniversary of the publication of Darwin's influential work.
From rare books, manuscripts and archives, Wille moved to the collections of art and artifacts, where she has served for the past year as a graduate intern.
In that position, Wille worked on the exhibition Worlds to Discover: 125 Years of Collections at Bryn Mawr College, researching several of the objects and editing the exhibition catalog, among other contributions. She also gained valuable experience with the College's EmBARK database, a specialized tool for collections-data management.
A project she found especially interesting is an investigation of a collection of prints by Rembrandt, his students and his imitators, aiming to determine "which of the prints were merely influenced by Rembrandt's oeuvre, which are direct copies, and which were worked upon by Rembrandt himself."
"The College's collection of Rembrandt prints is a great study collection for understanding the history of Rembrandt's reception and influence," Wille notes, adding that it is also a good illustration of how notions of the importance of 'authenticity' in art have changed.
Under the system of apprenticeship that produced much European art before the modern era, she explains, "students who worked for a master were not allowed by painter's guild regulations to work in an original style until they had completed their apprenticeships. Their work belonged to the master, and Rembrandt himself is known to have signed his own name to works that were clearly executed by his students."
Wille will return to this issue in her dissertation, which "addresses workshop production in 15th-century Flemish painting as well as how its influence on the ideas of what we now call 'original' and 'copy' corresponds with the way those same ideas are presented in the museum setting today."
Although her work at the Met will not be focused on her dissertation research, Wille says, it will provide invaluable preparation for her project.
"The work I do at the Met will give me insight into how technological methods help make distinctions between original and copy," Wille says. "I hope it will also give me the opportunity to talk to curators at museums around the world about these issues."
Comments Off

on Ph.D. Candidate Angélique Wille Awarded Slifka Fellowship at Metropolitan Museum of Art