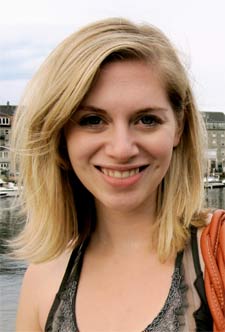 Alicia Steinmetz '11, a political science major, has joined the ranks of Bryn Mawr students who have been awarded a prestigious Fulbright grant. As a Fulbright English Teaching Assistant in Slovakia, Steinmetz will also pursue her interest in Slovak and Czech culture and cultural relationships.
"During a semester abroad in the Czech Republic, I gained a sense of the shared history and evolving identities of both countries," she explains, "I had the chance to visit Bratislava, where I was struck by the many different influences I could detect in its architecture, cuisine, and culture, likely a result of its location in the heart of Europe as well as a remnant of its past foreign occupations. The experience left me longing to learn more."
An active member of the Bryn Mawr College theater community and director of the play Stop Kiss for this spring's Bi-Co Student Theater Festival, Steinmetz is interested in the theater and arts community of Central Europe.
"Dealing with communal guilt and the struggle for national identity, the region seemed to me a romantic, passionate place where artists became revolutionaries who had the chance to shape their countries after the fall of communism," she says, "The Shop on Main Street, a stunning film from the Czech/Slovak New Wave, is one influential example of the art that first drew me to the region."
Her fascination with the the art of the Czech/Slovak region is clear, her interest in inter- and cross-cultural relationships playing a large role. Steinmetz, whose father came to the U.S. seeking asylum from the Salvadorian civil war, will bring this firsthand experience in cross-cultural relations with her to her position in Slovakia. She also brings her political-science know-how to the table, citing an interest in the politics of the region after the fall of communism.
Steinmetz has a passion for political science, acting as a teaching assistant and discussion leader for the Bryn Mawr College Political Science Department; she is also a major representative to the department.
She also pursues her extracurricular passions as a club officer of the Bi-Co Equestrian Team and as an office assistant in the Bryn Mawr College Civic Engagement Office.
After her Fulbright experience, she plans to pursue a graduate degree in political science with a regional concentration in East-Central Europe.
–By Ellie Rhymer '12
Comments Off

on Poli-Sci Major and Theater Aficionado Alicia Steinmetz Wins Fulbright ETA to Slovakia