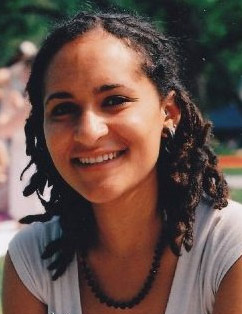 Civic-minded anthropology major Briana Bellamy '11 will finally be able to put some of her ideas about social justice into practice next year, thanks to a $10,000 Davis Projects for Peace Grant.
The Davis Projects for Peace program awards grants to 100 students who have designed projects that aim to promote peace and address the causes of conflict throughout the world.
Bellamy spent the fall of her junior year abroad in Nepal as part of the School for International Training (SIT) study-abroad program. It was a profound and challenging experience that gave her a deep appreciation for the complexity of Nepalese political and social life, she says. Bellamy returned to Nepal in the summer of 2010 after receiving the Emily Seydel International Internship grant from Bryn Mawr College. Her interest in the Nepalese people runs deep, and she intends to return to Kathmandu for a third time to implement her Davis Project for Peace.
"Sharing Knowledge for Peace (Shantiko laagi gyaan baatnu)," the project Bellamy plans to implement in Nepal, is based on the student-staff partnership program developed by Bryn Mawr's Teaching and Learning Initiative.  At the College, this model pairs students with staff members in reciprocal learning partnerships. Bellamy is a student coordinator for the program, making partnerships between current staff and students and facilitating reflection meetings with students.
"Students will teach something to the staff, typically computing skills or literacy, and the staff members will reciprocate by teaching something to the students. It can be any skill or interest, from cooking to jazz appreciation. We want it to be an educational exchange," she says.
During the summer of 2010 Bellamy worked for an organization in Kathmandu called Socio-Economic Welfare Action for Women. At that time she began doing research on whether the TLI model could work in the Nepali context.
"When I was there over the summer I was doing research amongst different communities to see if they felt the TLI model would be valuable and effective. I wanted to make sure it was something they actually thought would work and would be a good thing. The people I spoke with were really enthusiastic about it."
Sharing Knowledge for Peace differs in some ways from the TLI model at Bryn Mawr. While still based on a foundation of reciprocal learning, Bellamy's adaptation of the program to a Nepalese context will be more of a community initiative, not contained within a college campus. Bellamy has begun work getting in touch with contacts who are trying to mobilize youth and adult participation in Kathmandu.
The central value of reciprocal learning, however, remains critical. "The core philosophy is that all knowledge is valuable and all people have knowledge to share. People have different kinds of expertise when they come from different communities which might not be recognised by formal education," Bellamy says.
Bellamy intends to work in close collaboration with local NGOs to facilitate the success of the program. She believes that by tapping into established activist networks she will be able to attract participants already interested in social-justice issues.
Bellamy hopes that Sharing Knowledge for Peace will act as an avenue through which youth can become more invested in their local communities. She also envisions the program as an opportunity for adults to learn much-needed literacy skills and job training. Finally, Bellamy hopes that Sharing Knowledge for Peace will be a reflective experience allowing participants to examine different issues within their community.
"I'm trying to run a workshop that will train facilitators so they can facilitate discussions about community issues. I don't want to decide the topics; I want to hand over the conversations to them," she says.
Bellamy's greatest dream, however, is that project will be sustainable and potentially develop a long-term link between students at Bryn Mawr College and  those in Nepal. She envisions in the future connecting the Sharing Knowledge program in Nepal with the current Teaching and Learning Initiative here at Bryn Mawr, continuing a longstanding tradition of social justice and exploring how that can operate on a global stage.
"I really hope I can add an international component to the layers of exchange," Bellamy says.
Bellamy says she leaves Bryn Mawr with a strong social conscience and hopes to share those beliefs with others in her local community and around the world.
—Antonia Kerle
Comments Off

on Senior Briana Bellamy Wins Grant to Establish Knowledge Exchange in Nepal