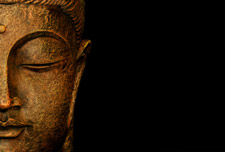 This fall a group of faculty and students will contemplate contemplation in a 360° course cluster that  explores the history, science and practice of meditation and other mindful practices.
"360°: Contemplative Traditions" comprises three classes plus an independent study (a fourth course) that share an interest in contemplative or mindfulness traditions and practice. The courses bring together historical, cultural, psychological, and religious perspectives. The three shared courses will twine together in significant and determined ways, but the unique perspective of each will offer a broad view of the topic
Students interested in 360°: Contemplative Traditions must preregister and complete this questionnaire at the time of preregistration. This questionnaire must be completed and submitted to the instructors no later than by the end of Thursday, April 7 (midnight). Incomplete or late submissions cannot be considered.
360° Contemplative Traditions will include a trip to Western Japan in late September/early October as well as shorter trips to sites in Pennsylvania and New York. Since student participants will be taking all four classes, the Contemplative Traditions 360 is designed to provide a unified, intensive learning experience that includes experiential components extending beyond the campus. This type of learning experience is often available to students only during a semester abroad.
Teaching the 360° will be Haverford Associate Professor of East Asian Studies Hank Glassman, Bryn Mawr Professor of Chemistry Michelle Francl, and Bryn Mawr Professor of Psychology Marc Schulz.
"I'm plugged into the electronic landscape in many ways, from my podcast and blogging to the ways in which I use technology in my courses, but through my sojourns to the silent spaces
— ranging from day trips to a 30-day period in monastic silence – also know the benefits on unplugging from the 24/7 chatter," says Francl, who will teach a class of the history of contemplation in the West.
"Meditation is of course a topic that has received much attention over the past two millennia of Buddhist history," adds Glassman. "I am excited to offer this course that takes up typologies, techniques, debates, and critiques concerning meditation in South Asian and East Asian contexts."
With its recent introduction as a key component of Western therapeutic attempts to remediate psychological difficulties or cope with stress, mindfulness has also become a central focus of much psychological research and theory.
"Mindfulness is a topic that has long interested me because it provides an opportunity to study and to experience the ways in which the mind and body are connected," says Schulz.
360° Contemplative Practice course descriptions:
The History and Rhetoric of Buddhist Meditation [Hank Glassman] This course examines a great variety of discourses surrounding meditation in traditional Buddhist texts. While meditation may seem to be something that there is not much to say about, we shall find that in ancient texts as well as in modern scholarship, much ink has been spilled on the topic.
Silent Spaces: A History of Contemplation in the West [Michelle Francl] In the age of the iPod, wi-fi and the cell phone, silence and solitude have become a deliberate choice, not the default. Why would anyone elect silence as a way of life? This course explores elected silence and the ways in which it has shaped, and still shapes, people and places in the Western contemplative tradition from the desert hermitages of the third and fourth centuries through modern communities as diverse as an enclosed order of Carmelite nuns living outside Washington, DC to Quaker meetings.
Listening to Mind and Body: The Psychology of Mindfulness [Marc Schulz] This course will consider modern conceptualizations and implementation of mindfulness practices that have arisen in the West. The course will focus on psychological theory and research examining the potential health benefits of these practices as well as scientific study of more ancient meditative approaches.
Students participating in the 360° will carry out a semester-long project related to their scholarly work in classes and during the field experiences. Students will also be encouraged to participate in mindful or meditative activities (e.g., systematic observing, sitting in silence, modern adaptations of meditation) to experience elements of the traditions that are the focus of the classes. The project, trips and mindful engagement constitute the students' "fourth" class for the semester.
360° is a new interdisciplinary experience that engages several aspects of a topic or theme, giving students an opportunity to investigate thoroughly and thoughtfully a multitude of perspectives. A cohort of students takes a cluster of classes over the course of a semester, focusing on the history, economic concerns, cultural intersections and political impact of an era, decision, event, policy, or important scientific innovation. 360° participants hone their arguments and insights through writing and research, develop strategies for teamwork that push the limits of their talents and creativity, and work with professors and scholars to promote big-picture thinking.
Comments Off

on Fall 2011 360° Explores the History, Science and Practice of Meditation and Other Mindful Practices