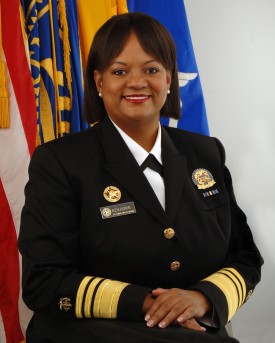 U.S. Surgeon General Regina M. Benjamin will give a keynote address and join a panel of experts to discuss health care inequalities at the inaugural Kevin J. Robinson Forum for Social Justice and Public Health being held by the Bryn Mawr College Graduate School of Social Work and Social Research in collaboration with the Columbia University Mailman School of Public Health.
The event is free and open to the public and takes place on Monday, April 11, from 5:15-7:30 p.m. at Bryn Mawr's McPherson Auditorium in Goodhart Hall, 150 N. Merion Ave.
Joining Benjamin for the panel discussion will be Associate Dean for Community and Minority Affairs Robert E. Fullilove, Columbia University Mailman School of Public Health;  Katherine C. Maus, director, CAPTA services, Philadelphia Department of Human Services; Donna L. Torrisi, founder of The Family Practice and Counseling Network in Philadelphia; Leslie Acoca, network executive director, Family Practice and Counseling Network; and Dr. David Rubin, senior co-director of PolicyLab, The Children's Hospital of Philadelphia.
The forum is named in honor of Assistant Professor of Social Work and Social Research Kevin J. Robinson, who died unexpectedly last year at the age of 40. Robinson's work was part of a growing movement in the field of public health to value insights gained from qualitative research methods, as opposed to relying solely on the demographic or statistical approaches that have traditionally been privileged.
"Kevin wanted to know that his work would not simply end up on a shelf or on his CV-that it would make a difference in people's lives," says GSSWSR Dean Darlyne Bailey
Prior to the panel (from 4-5 p.m.) the GSSWSR will host a "Life Course" game, in which participants are led through an interactive experience designed to illustrate key concepts of the life course framework. The game is designed to confront the players with the effect of external factors such as resource availability on the course of an individual life. Factors considered are socioeconomic status, community resources and random acts. Because seating is limited, registration to participate in the Life Course is required.
About U.S. Surgeon General Dr. Regina M. Benjamin
As "America's Doctor," Benjamin provides the public with the best scientific information available on how to improve its health. Benjamin also oversees the operational command of 6,500 uniformed health officers who serve in locations around the world to promote, protect, and advance the health of the American people.
Benjamin is founder and former CEO of the Bayou La Batre Rural Health Clinic in Alabama, former associate dean for rural health at the University of South Alabama College of Medicine in Mobile, and immediate past chair of the Federation of State Medical Boards of the United States. In 1995, she was the first physician under age 40 and the first African-American woman to be elected to the American Medical Association Board of Trustees.
Awards and honors include a MacArthur "Genius" Award; the 2000 National Caring Award; The Nelson Mandela Award for Health and Human Rights; being named one of the "Nation's 50 Future Leaders Age 40 and Under" by Time magazine; and being named "Woman of the Year' by CBS This Morning.
For more on Benjamin visit the Office of The Surgeon General website.
Comments Off

on U.S. Surgeon General Regina M. Benjamin to Lead First Forum on Health Care Inequalities in Honor of Kevin J. Robinson