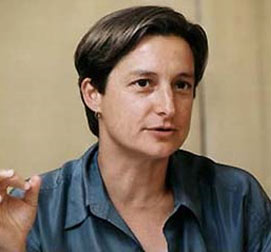 Preeminent gender theorist Judith Butler will hold the 2011 Mary Flexner Lectureship at Bryn Mawr College, announced President Jane McAuliffe.
Butler is the Maxine Elliott professor in the rhetoric and comparative literature departments at the University of California, Berkeley, and has contributed greatly to the fields of feminism, queer theory, political philosophy, and ethics during her scholarly career.
While in residence at Bryn Mawr, Butler will deliver three public lectures on her new work tentatively titled Gender and its Allies: Performativity in Precarity. The lectures will be Mondays, Nov. 7, 14, and 21.
Through Gender and its Allies, Butler "proposes to reconsider the theory of performativity … in light of the broader claim that democracy requires the right to appear in public." Her work will build upon her own publications Gender Trouble: Feminism and the Subversion of Identity (1990, Routledge), Bodies that Matter: On the Discursive Limits of 'Sex' (1993, Routledge), and Undoing Gender (2003, Routledge) and her co-authored work with Gayatri Chakravorty Spivak, Who Sings the Nation-State? (2007, Seagull) It will "consider further the gendered regulation of the field of appearances, i.e. who can be heard or seen, who can lay claim to rights of recognition and legal protection, and what forms the implicit limits of audibility and visibility within a particular public sphere."
"Having this caliber of scholar on campus, working alongside our own accomplished faculty, sets Bryn Mawr College apart," says President Jane McAuliffe. "I invite and encourage faculty, staff and students to find ways to incorporate the lectures, classes, and campus activities into your fall semester.  I believe it will prove to be transformative for us all."
Established in honor of Mary Flexner, a Bryn Mawr graduate of the class of 1895, the Lectureship has brought some of the world's best-known humanists to campus for a brief residency.
About Judith Butler (from www.theory.org.uk)
In her most influential book, Gender Trouble (1990), Butler argued that feminism had made a mistake by trying to assert that 'women' were a group with common characteristics and interests. That approach, Butler said, performed 'an unwitting regulation and reification of gender relations'— reinforcing a binary view of gender relations in which human beings are divided into two clear-cut groups, women and men. Rather than opening up possibilities for a person to form and choose their own individual identity, therefore, feminism had closed the options down.
Butler notes that feminists rejected the idea that biology is destiny, but then developed an account of patriarchal culture which assumed that masculine and feminine genders would inevitably be built, by culture, upon 'male' and 'female' bodies, making the same destiny just as inescapable. That argument, she said, allows no room for choice, difference or resistance.
Butler prefers 'those historical and anthropological positions that understand gender as a relation among socially constituted subjects in specifiable contexts.' In other words, rather than being a fixed attribute in a person, gender should be seen as a fluid variable which shifts and changes in different contexts and at different times.
For more about Butler, visit her faculty profile.
Comments Off

on Preeminent Gender Theorist Judith Butler to Hold 2011 Flexner Lectureship