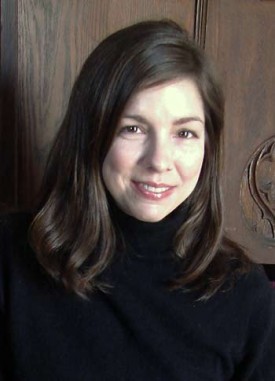 The mysterious Doppelgänger in the intense, often disturbing portraiture of Austrian Expressionist artist Egon Schiele has long been a subject of discussion among art historians and critics. Did the impetus that prompted Schiele's use of the Doppelgänger leave its traces elsewhere in Schiele's portraiture?
Thanks to a Fulbright research grant, Lori Felton, a Ph.D. student in history of art at Bryn Mawr's Graduate School of Arts and Sciences, will spend the next academic year prowling the museums and archives of Vienna for evidence that will shed light on that question.
In her master's thesis, Felton focused on the Doppelgänger motif in some of Schiele's self-portraits. In her dissertation, she hopes to extend her analysis to examples of Schiele's portraiture in which a literal Doppelgänger is not present, asking how the themes he explored with the motif are manifested in other ways.
Vienna's museums and archives contain treasure troves of source material for this inquiry — not only thousands of drawings and paintings, many with marginal notations, but also letters, photographs, documents of many sorts, and Schiele's notebooks. There is so much material that it will be a challenge to review it all, Felton says. But she is well prepared for the task.
International Exchange: Both a Path and a Goal
The Fulbright grant seems an especially apt one to fund Felton's dissertation research: the sort of international exchange it promotes has been critical to her personal history and choice of scholarly pursuits.
Raised in a rural community in Appalachian Pennsylvania, Felton didn't pursue a college education immediately after graduating from high school. But a friendship with a German exchange student led her to travel to Frankfurt, where she first encountered Expressionist art.
With limited German-language skills and little experience of urban life or travel, the 19-year-old Felton felt ill equipped for her visit, but her fascination with the Expressionist art she saw there inspired a determination to study German and return someday.
Several years later, Felton returned to school, beginning at a community college and eventually transferring to American University in Washington, D.C., where she pursued her interest in German language, art, and culture. Through an AU summer program, she made good on her vow to return to Germany, spending a summer in Berlin.
Felton spent the year after her graduation from AU in Vienna, in an English teaching assistantship coordinated by the Fulbright Commission for the Austrian Federal Ministry for Education, Arts and Culture. During her time in Vienna, she embraced every opportunity to learn more about Austrian culture.
In graduate school at Bryn Mawr, Felton continued to pursue her interest in German and Austrian culture, and she began her study of Egon Schiele in a seminar on Viennese art. Her paper for that course sketched out ideas she developed in her master's thesis, which in turn will be the starting point for her dissertation research.
Meanwhile, Felton says, she has continued to find ways to enhance her knowledge of German language and culture, both through structured activities like a summer course at Middlebury and through extracurricular efforts like a bicycle trip from the Baltic Sea to Berlin.
Over Bryn Mawr's Spring Break, Felton traveled to Vienna with a group of Bryn Mawr undergraduates who are enrolled in a 360˚ (a course cluster) focusing on turn-of-the-century Vienna and the end of the Habsburg Empire taught by Professor of German Imke Meyer and Professor of History of Art Christiane Hertel, Felton's dissertation adviser. The trip happened to coincide with an exhibition of Schiele's portraiture at Vienna's Belvedere Museum.
"I was also able to view exhibitions at the Leopold Museum which I will be able to look at more closely in the fall," Felton says, "and I joined some students in the class on a research expedition to the Albertina, where we were able to look through their database of objects in the collection.  It was a very successful trip all around!"
It wasn't Felton's first experience with Bryn Mawr undergraduates; she has been an active participant in Graduate Connections, the mentoring program organized by Bryn Mawr's Graduate Student Association. She has also assisted Associate Dean Michelle Mancini in advising undergraduates about fellowship opportunities and applications.
During her Fulbright year, Felton is sure to continue to immerse herself not only in archives, but in the living culture of Austria.
"I have learned in the past that becoming an expert in German and Austrian studies will occur not only through my work, but also through interactions on the bike trail, language classes and clubs," Felton says.
Comments Off

on GSAS Student Lori Felton Wins Fulbright Grant to Fund a New Look at Egon Schiele's Troubling Portraits