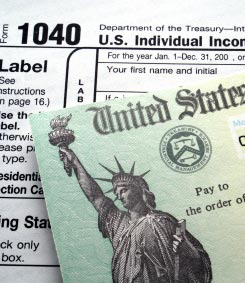 Last year, a dedicated team of Bryn Mawr students, working with the Volunteer Income Tax Assistance program, helped nearly 834 working individuals and families of Norristown receive over $1 million dollars in tax refunds, thanks to the federal government's Earned Income Tax Credit.
As these volunteer tax preparers can attest, the EITC can generate tax credits in the thousands of dollars for working families.
"This refund is the biggest push by the federal government to get people out of poverty," said Adrienne Webb, a senior psychology major and student coordinator for VITA. "The EITC pulls 6.6 million Americans out of poverty each year."
VITA serves as a reliable community tax-filing agency, where volunteers file forms free of charge. They prepare clients' 1040s throughout the spring semester.
According to Webb, VITA provides an alternative to for-profit tax preparation companies, which charge upwards of $100 to file an individual's taxes. There is no legal standard of training for tax preparers, so virtually anyone can prepare taxes for a fee.
The Bryn Mawr College Civic Engagement Office began recruiting and coordinating volunteers for VITA, which is a nationwide program sponsored by the IRS, in 2004. The effort, a partnership with the Community Action Development Commission of Montgomery County, is  part of the Bryn Mawr College-Norristown Community Partnership in Action collaborative.
When Bryn Mawr initiated the program, it was the only college in Montgomery County participating in VITA, according to Nell Anderson, co-director of the Civic Engagement Office.
Over the years, through the efforts of students and AmeriCorps VISTA volunteers, Bryn Mawr's VITA program has become a model for other colleges that want to start similar partnerships on their campuses.
Now, Bryn Mawr's VITA team has expanded from 20 to 40 volunteers. It includes two undergraduate student coordinators, Webb and Nora Chong '12, and one staff coordinator, Graduate School of Social Work and Social Research student Amanda Pollock.
The student coordinators are responsible for recruiting the entire volunteer tax-preparer team each fall. This year, Webb and Chong developed an orientation program to supplement the standard IRS training that every volunteer undergoes.
Webb and Chong's program introduces students to the Norristown community and the unique economic challenges of families living there.
In addition to the extra 20-hour training orientation, Webb and Chong also made it a requirement that every volunteer be certified by the IRS as a tax preparer at the intermediate level.
"Under the Obama Administration, there are more credits for low-income people, so you have to be more knowledgeable about tax law. Taxes under the Bush Administration were simple," said Webb, "but less beneficial for our clients."
According to Anderson, the program attracts a different type of volunteer than other CEO programs. There are many economics and math majors who participate, although an extensive math background is not necessary to volunteer.
Xue Jiang '13, one of these economics majors, has been volunteering with VITA for two years.
"I am curious about how macroeconomic policies are carried out on the most down-to-earth level. I love how VITA gives me the opportunity to observe this," said Jiang.
Anderson described this year's team as particularly solid. Indeed, according to the latest IRS data, the Norristown site, where Bryn Mawr volunteers prepare taxes, boasts the lowest rate of rejected returns of all VITA sites in Montgomery County, a decline from last year's figure.
The drop in rejections is in no small part thanks to Elaine Lavin '11, who has volunteered with VITA since her freshman year. Lavin developed a procedure for proofreading each return before it was submitted to the IRS's own proofing system.
Lavin developed a protocol that not only checks for standard numerical mistakes, but also looks for errors that may prevent a taxpayer from receiving his or her maximum EITC.
"I've caught errors that have gotten people thousands of dollars in money back," said Lavin. "Getting people thousands of extra dollars-that's huge."
Not only does VITA provide students with practical skills, like learning how to prepare one's taxes, but volunteers have repeatedly said that the experience endows them with poise, professionalism, and exposure to a diversity of perspectives.
Adds Webb: "The classroom isn't the only rewarding place. Having a connection to a greater community outside of Bryn Mawr is key."
—Katherine Bakke
Comments Off

on At Tax Time, Bryn Mawr Student Volunteers Are Good as Gold for Local Community Members