Bryn Mawr College has joined with four of the nation's other top women's colleges and the U.S. State Department to create The Women and Public Service Initiative, announced Secretary of State Hillary Rodham Clinton on Friday at the Women in the World Stories and Solutions conference, sponsored by Newsweek and the Daily Beast website (20:40 in video below).
"Today I am proud to announce that the State Department is working with the historic 'Seven Sisters' colleges to launch a new Women and Public Service Initiative. Together we will seek to promote the next generation of women leaders who will invest in their countries and communities, provide leadership for their governments and societies, and help change the way global solutions are developed," Clinton said in making the announcement.
The Women and Public Service Initiative will bring together the resources of Bryn Mawr, Smith, Wellesley, Mount Holyoke, Barnard and the State Department to increase the participation of women around the globe in all spheres of public service.
As part of the initiative, this fall Bryn Mawr will host a colloquium of global policy makers, public officials, academic experts, and innovative thinkers. The inaugural event will have three goals: to form a global network of women in public service; to draw attention to the need to train and inspire a new generation of female political leaders; and to advance partnerships, including an annual summer institute on public service and political leadership for young women from around the world.
"Bryn Mawr and our sister colleges have a long and proud tradition of educating students who care about the world's problems and who contribute to their solution," says Bryn Mawr College President Jane McAuliffe. "Our alumnae have distinguished themselves in multiple forms of public service and constitute an extraordinary global network of experience and commitment, one that is ideally positioned to mentor and support a rising generation of dedicated leaders. We're very excited to join with the State Department and our sister colleges to leverage the lessons we've learned through a history of fostering women's education, advancement and empowerment."
Increasing global connections has been a priority at Bryn Mawr College in recent years. Over the last several years, the College has pursued, and continues to explore, a number of mutually advantageous relationships with academic institutions in Europe, Asia and the Middle East. At the same time, Bryn Mawr's student body has continued to become more internationally diverse — a record 26 percent of the class of 2014 is composed of international students.
In 2010 the College hosted The Heritage and Hope Conference, which brought leading international educators, advocates and NGO leaders to campus, as part of its 125th anniversary.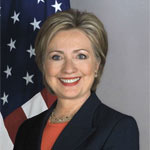 Comments Off

on Bryn Mawr Joins Other Top Women's Colleges and U.S. State Department in New Initiative