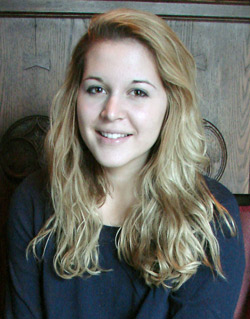 Katherine Lewis '12, a philosophy major and English minor from Dallas, Texas, recently won first prize for her poem "October" in the Lydia Pinkham Memorial Foundation's Sylvia Plath poetry contest (read the poem or listen to Lewis reading it below).
The contest, now in its sixth year, is open to students at Bryn Mawr, Wellesley, Smith, and Mount Holyoke Colleges.
"I entered on a whim," said Lewis, who saw a poster advertisement for the contest one day in English House. "It is really unexpected."
Lewis said the last time she entered a poetry contest was when she was in the fifth grade.
Lewis submitted three poems to the contest, all of which she wrote for Thomas Devaney's poetry writing class at Haverford in fall 2010. She described the winning poem, "October," as a modern sonnet that recollects the changes occurring during the fall season.
The contest's judge e-mailed Lewis personally to praise the lyrical quality of the poem.
The compliment was fitting; Lewis loves to play with internal rhyme.
"I'm not as interested in the meaning or context of words, but instead the sound of words. They drip off your tongue and onto the page. A lot of times when I'm with my friends I realize the sound of something they said was really cool. I'll write it down and use it in poem later," said Lewis, who counts Pablo Neruda, Rainer Maria Rilke, and Mina Loy among her favorite poets.
The judge also felt the focus and control of Lewis's poem stood out amongst the 41 other entries in the contest, although Lewis admitted that those qualities were challenging to achieve.
"Reworking the poem to place meaning behind the sounds was difficult," said Lewis.
Now the judge is working to help Lewis publish her work; they hope to publish the piece in a newspaper or magazine this fall.
Lewis, who has interned at the National Adoption Center, hopes to attend law school upon graduation; the $1,000 cash prize from the contest, she says, will help pay for an LSAT prep course this summer.
Despite her interest in law, Lewis anticipates that she will continue to write for pleasure, and even enter more poetry contests.
"I would encourage people to pay attention to the posters in their major departments and submit more papers. I was really embarrassed to show people my work, but winning this contest shows me I should be less timid about it," said Lewis.
—by Katherine Bakke '11
Listen to Katherine Lewis Reading "October"
[display_podcast]
October
By Katherine Lewis
Scattered in my memories are images of autumn's leaves
that shattered under foot and vanished with the breeze
on our walks home from school. In the vicissitudes of fall,
we meandered through the oaks and birches, counting all
the colors collaged amongst the branches. In sight of them,
I stumbled on an angry twig; I fumbled with my fraying hem,
flicking off the underbrush. My throbbing knees! They bled
and bruised, shades of plum contrasting hues of brown and red.
They dried and scabbed, and with the leaves the scabs fell, too
until the trees were bare and naked in the cold. And it is you —
it is you that I remember most from those crisp October nights.
The cold — it licked our cheeks, chapping them with windy bites.
But in flimsy foam cups of apple cider and the quiver of a lip,
I found solace in your Harvest kiss and in every cinnamon sip.
Comments Off

on Bryn Mawr Junior Katherine Lewis Wins Sylvia Plath Poetry Contest