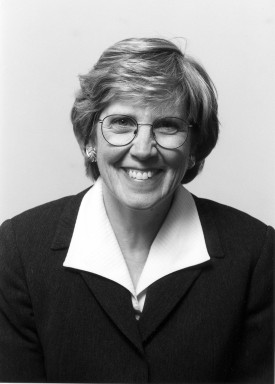 Arlene Gibson '65 was unanimously named to succeed Sally Zeckhauser '64 as the chair of Bryn Mawr College's board of trustees at the board's Feb. 12 meeting.
Gibson will assume the chair on July 1. She has been a member of the board of trustees since 1999 and currently serves as vice chair of the board and as trustee liaison to undergraduate students. Gibson is the former head of the Spence School in New York and served as headmistress of Kent Place School in New Jersey. In addition to Bryn Mawr's board, she serves on the board of The Promise Academies of Harlem's Children's Zone. In the fall of 2010, Gibson was a visiting practitioner at the Harvard Graduate School of Education. After graduating from Bryn Mawr, Gibson earned a master's degree in Latin American Studies at Georgetown University. Gibson and her husband, Charles Gibson, live in New York City.
"I am honored to be invited to serve during this time of both challenge and excitement at the college. Following Sally as chair is humbling as she has given 11 years of excellent leadership to  Bryn Mawr," says Gibson. " Sally's quiet graciousness will be sorely missed. Among her lasting legacies to the college is a unique plan of governance that enables trustees to share decision making with the administration, faculty, student body and alumnae. I look forward to working with my fellow trustees, with Jane [Bryn Mawr President Jane McAuliffe] and with the many members of the community whom I greatly admire."
Zeckhauser is stepping down after 11 years as chair. During her tenure the operating processes of the board were transformed, academic governance was greatly strengthened, the College conducted a capital campaign that surpassed its $225 million goal, and the board appointed Jane McAuliffe to lead the College.
"It has been a pleasure and privilege to work with Nancy Vickers, Jane McAuliffe and with this extraordinary group of committed and engaged trustees, and with the Bryn Mawr College community. But now it is time for fresh eyes to consider the long-term vision for the College and the strategies to achieve that vision," says Zeckhauser.

Zeckhauser retired in June 2010 as vice president for administration at Harvard University. In addition to serving on Bryn Mawr's board, she is vice president of The Lalor Foundation.  Zeckhauser earned her M.P.A. at Harvard University in 1973.  She lives with her husband, Richard Zeckhauser, in Cambridge, Mass.
"Bryn Mawr is incredibly fortunate to have such eminently qualified alumnae as Arlene and Sally who are dedicated to maintaining Bryn Mawr's character and rich academic tradition while also plotting its course for the future," says Bryn Mawr President Jane McAuliffe. " All of our trustees put in countless hours because they believe in Bryn Mawr and its mission and working with them and sharing their passion is truly a highlight of my presidency. Congratulations, Arlene, and thank you, Sally, for 11 years of wonderful leadership."
Comments Off

on Arlene Joy Gibson '65 Named Chair of Bryn Mawr's Board of Trustees