More than 200 guests filled the Pennsylvania Academy of Fine Arts' Samuel M. V. Hamilton Building on Saturday, Feb. 12, as Bryn Mawr College's Katharine Houghton Hepburn Center presented the 2011 Katharine Hepburn Medal to Helene Gayle, president and chief executive officer of the international humanitarian organization CARE, in honor of her efforts to fight global poverty and reduce the transmission of HIV/AIDS.
National Public Radio National Political Correspondent Mara Liasson served as the master of ceremonies, at which the Children's Hospital of Philadelphia CEO Steven Altschuler, Bryn Mawr Professor of English and Hepburn Center Director Katherine Rowe, and Bryn Mawr President Jane McAuliffe all spoke before McAuliffe presented the medal to Gayle.
Video of Gayle receiving the award from Bryn Mawr President Jane McAuliffe and of Gayle's acceptance speech are below. To see all the evening's speeches, go to the 2011 Hepburn Award Ceremony playlist on Bryn Mawr's YouTube page.

The Katharine Hepburn Medal recognizes women who change their worlds: those whose lives, work and contributions embody the intelligence, drive and independence of the four-time Oscar winner. Award recipients are chosen on the basis of their commitment and contributions to the Hepburn women's greatest passions—film and theater, civic engagement and women's health. Gayle is the first recipient to be honored in the "women's health" category.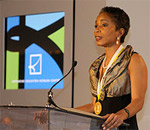 Comments Off

on CARE CEO Helene Gayle Accepts 2011 Hepburn Medal: Video