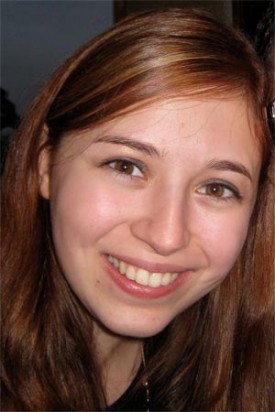 Bryn Mawr College senior Didem Uca recently learned that a short story she penned in German will be published in an upcoming issue of Trans-Lit2, the journal of the Society for Contemporary American Literature in German.
Uca, a comparative literature and German double major from Syosset, New York, was surprised that her piece was selected for publication. She began writing and speaking in German her freshman year of college, and had previously only dabbled in German and English poetry writing.
Uca wrote the short story, entitled Die Arbeit eines Lebens, as a final project for "Contemporary German Literature," a class she took at Swarthmore in spring 2010. In the class, students had read a story about a man who woke up to discover that he was the last man on earth. Professor Hansjakob Werlen asked the students in the class to write their own stories with a similar scenario.
Uca wrote her piece in a three-day stretch. She was nervous to start, but soon became immersed in her work.
Not wanting to give anything away, Uca sums up the plot of her story as such: "It's about one woman's effort to try to save the planet from nuclear holocaust, but then she ends up being the world's only survivor."
The hardest part about writing the story, said Uca, was crafting a story with an appropriately German style and tone.
"When you read something that feels fresh and original, you know it is good writing. I knew how to do it in English, but I wasn't sure how to do it in German. I've only read 30 books in German; I haven't read enough to know what my style is yet. I think writing this story helped me find that style."
At the encouragement of Bryn Mawr College Professor of German Imke Meyer, Uca submitted the story to Trans-Lit2. When she was notified that the piece had been selected for publication, Uca was naturally thrilled and flattered.
"Getting people's responses to my story, who are native speakers from Germany, was great. Overall they said they liked my style, and that was what was most important to me."
Uca's proficiency in German is unusual, but not unforeseen. She grew up speaking Turkish and English, and she learned Italian in high school.
"Growing up bilingual, I've always been interested in where cultures meet and how communication happens."
Uca's proficiency in German grew during two consecutive summers at the Middlebury Language School at Middlebury College. She studied abroad in Germany in fall 2008 and worked as a teaching assistant for both the Middlebury program and the German department at Bryn Mawr, opportunities for which she is grateful.
"I doubt many undergraduates have the opportunity to TA. It reinforces the idea that this is my calling: I want to teach, I love working with students, and in the process I've learned so much about how to learn foreign languages," said Uca.
Currently Uca is in the last stages of selection for a Fulbright scholarship to teach English in Turkey. Whether or not she receives the Fulbright, she hopes to live in Turkey for a few years and eventually return to school to earn a Ph.D. in comparative literature.
Communicating through spoken and written word-and all the particularities that come with each language-is clearly a passion for Uca.
Pausing to translate a particular German word to describe her story, Uca laughed, realizing there is no pure English equivalent. "I really feel like I couldn't have written this story in English. I don't know if I could even translate it," she said.
—Katherine Bakke '11
Comments Off

on Not a Native Speaker, But Fluent Enough for Fiction