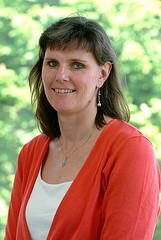 Kim Cassidy has agreed to serve as Bryn Mawr's provost for an additional five years, President Jane McAuliffe recently announced .
Cassidy was named acting provost in January 2008 and provost in June 2008.
"I'm looking forward to five more years of working to continue to create an atmosphere where the faculty's work of scholarship, teaching and service is valued and where the focus is on the excitement of possibility," said Cassidy in accepting the reappointment.
In an e-mail to faculty sent before the winter break announcing the news of Cassidy's reappointment,  McAuliffe wrote, "As I told Kim, the expressions of praise, enthusiasm and gratitude for her work that your letters conveyed will keep her ears ringing for the next five years.  I am glad that her willingness to accept reappointment gives us all something extra to celebrate during this holiday season."
During her tenure as provost, Cassidy's office has led the Middle States reaccreditation review, implemented recommendations for the Task Force on Balancing Mission and Resources, facilitated the faculty's curricular renewal process, and much more.
Cassidy has served on the Bryn Mawr faculty since 1993, the year she earned her Ph.D. in psychology from the University of Pennsylvania. She also holds a bachelor's degree in psychology from Swarthmore College. As a develop­mental psychologist specializing in cognition, she has won research grants from the National Institutes of Health and the Guggenheim Foundation, among others. Her recent research has focused on how young children understand the mental processes and emotions of others and how the gender coding of names activates gender stereotyping.
Comments Off

on Kim Cassidy Reappointed as Provost