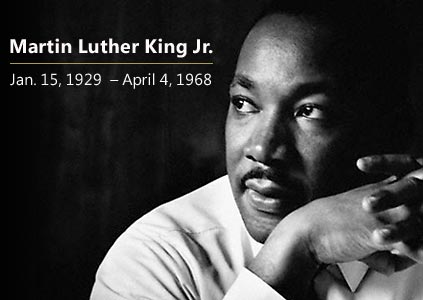 In addition to its annual hosting of the Main Line Martin Luther King Association's celebration of King's life and legacy, Bryn Mawr College will recognize Martin Luther King Jr. Day with a number of service projects for the college community.
Details about College-sponsored day-of-service projects can be found on the Civic Engagement Office's website.
The Main Line Martin Luther King Association's annual celebration of Martin Luther King Jr. Day will take place in the McPherson Auditorium of Goodhart Hall on Sunday, Jan. 16, at 3 p.m. This event is free and open to the public, and a reception will follow in the Goodhart Hall atrium.
NBC10's Monique Braxton will serve as master of ceremonies for the event, which features a musical tribute by by Harold Thompson, the Main Line Interdenominational Choir, The Benson Family, the Barry Sames Trio with Gloria Allende, and others.
Being honored at the event by the Association for their efforts to make King's dream a reality on the Main Line are Kevin D. Stroman Sr., president and founder of the Kids First Now! program in Wayne and vice chairman of the board of trustees of the Carr School/Mt. Pleasant Chapel; Rev. Dr. Horace O. Russell, recently retired pastor of Saints Memorial Baptist Church and former professor of historical theology and dean of the chapel of Eastern Baptist Theological Seminary (now Palmer Theological Seminary); and the Saints Memorial Baptist Church Usher Board.
Graduate School of Social Work and Social Research Dean Darlyne Bailey will give welcoming remarks.
In addition to Sunday's celebration, the Main Line Martin Luther King Association invites all those interested to gather at The Shipley School – Lower School, 1030 Wyndon Avenue, beginning at 8:30 a.m., on Monday, Jan. 17, to participate in a series of workshops and programming for children and adults. The Haverford High School Jazz Band and others will be on hand to provide entertainment.
For information on Sunday's celebration call 610-526-5244. For information on Monday's programming call 610-526-5261.
Comments Off

on Bryn Mawr College, Main Line MLK Association Celebrate MLK Day