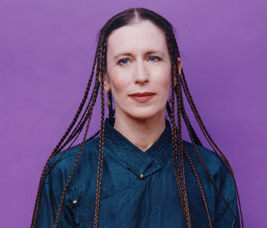 The Bryn Mawr College Performing Arts Series presents interdisciplinary arts pioneer Meredith Monk in a revival of her groundbreaking Education of the Girlchild as part of the College's 125th anniversary celebration.
Education of the Girlchild Revisited features Monk's legendary solo from the original 1972 work, in which she imagines herself as an old woman, reliving her life backwards. Showcasing Monk's exhilarating voice and stirring presence, the solo highlights the seamless melding of dance, music and visual theater for which Monk is renowned. Joined by her vocal ensemble, Monk will also perform Shards, a reconfiguration of music, images and movement from the Girlchild period (1969-1973).
The performance takes place on Sunday, Feb. 6 at 2 p.m. in the McPherson Auditorium in Goodhart Hall at Bryn Mawr College. Monk spent the week prior to the performance on Bryn Mawr's campus as a Hepburn Center Fellow, taking part in a series of workshops, film screenings, and other events.
Tickets for the Feb. 6 performance are $20 for the general public, $18 for senior citizens, $10 for students, and $5 for children 12 and under. Priority seating is available with $90 subscription packages ($75 packages for senior citizens). To purchase tickets visit Brown Paper Tickets or call the Office for the Arts at 610-526-5210. Admission is free for Bryn Mawr, Haverford, and Swarthmore students, faculty and staff. Facebook users can CLICK HERE to indicate whether they plan to attend and to share the event with friends.
During a career spanning more than 45 years, Meredith Monk has been acclaimed by audiences and critics as a major creative force in the performing arts. Significant awards have included a MacArthur "Genius" Award in 1995, two Guggenheim Fellowships, two "Bessie" Awards (New York Dance and Performance awards), three "Obies" (including an award for sustained achievement) and several honorary doctorates. With performances, film screenings and exhibitions at major museums (the Guggenheim, Whitney and Walker Arts Center) and performing arts centers (Lincoln Center Festival, Carnegie Hall, and Festivals d'Automne and d'Avignon), and with her scores performed by musicians from the St. Louis Symphony to Björk, Monk holds a singular place in contemporary culture.
"She harks back to a time before disciplines existed and categories were set in stone … She represents a kind of reboot of tradition. She may loom ever larger as the new century unfolds and later generations will envy those who got to see her live," wrote Alex Ross in The New Yorker.
Monk has said: "I work in between the cracks, where the voice starts dancing, where the body starts singing, where theater becomes cinema."
Audio downloads and video of Monk performing can be found on NPR's 50 Great Voices.
About the Bryn Mawr College Performing Arts Series
Since 1984 the Bryn Mawr College Performing Arts Series has presented great artists and performances to audiences in the Philadelphia area, creating an environment in which the value of the arts is recognized and celebrated. Talks and workshops provided free to the public help develop arts awareness and literacy. The series works to lower barriers to arts access through its partnership with Art-Reach, a nonprofit dedicated to improving arts accessibility for people of all ages and circumstances, and through its low ticket prices.
About The Katharine Houghton Hepburn Center
The Katharine Houghton Hepburn Center was established in 2006 at Bryn Mawr College to honor the adventurous and bold spirit of the Hepburn women. Its mission is to inspire women to challenge conventions in pursuit of their dreams, to lead publicly engaged lives and to have an impact on their communities. The center supports the Hepburn Medal; the Hepburn Fellows Program, which brings to Bryn Mawr's campus individuals who bridge academics and practice in nontraditional ways in the areas of film and theater, civic engagement and women's health; the Hepburn Summer Internships, enabling students to obtain practical experience in one of the Center's mission areas; and the Hepburn Scholarships, originally established in 1958 by Katharine Hepburn in memory of her mother.
Comments Off

on Meredith Monk Revisits Her Acclaimed Performance 'Education Of The Girlchild' And Other Seminal Works As Part Of Bryn Mawr's 125th Anniversary