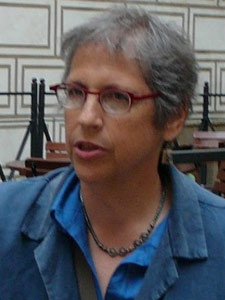 Germany's coveted Mercator Professorship has been awarded to Bryn Mawr Professor of History Sharon Ullman to support a multifaceted scholarly collaboration titled "Traces of Mind Control in American Cold War Culture" next spring and summer. A digital archive collecting and documenting cultural artifacts of the Cold War will be among the outcomes of the project, which Ullman will undertake with colleagues at the University of Erfurt.
The Mercator program, sponsored by Deutsche Forschungsgemeinschaft (or DFG, the government-funded German Research Foundation), enables German research universities "to invite highly qualified scientists and academics working abroad to complete a DFG-funded stay at their institutes."
Ullman, a political and cultural historian of the 20th-century United States who has published two volumes on the history of sexuality, is currently completing a manuscript titled Brainwashing: The Anxious Mind of Cold War America, which will be published by New York University Press.
This recent work focuses on the origins of the term "brainwashing" and its rapid adoption into American popular culture, investigating the conditions that produced widespread anxiety about the possibility of ideological conversion by scientific or technological means.
That dovetails nicely, Ullman says, with the project's focus on "mind control" and what her colleagues at Erfurt characterize as the impulse to enforce "sociocultural homogeneity" in the Cold War United States.
"It's very exciting to be able to work with colleagues on something that I'm addressing in my own work and to look at this American topic from an international perspective," says Ullman. "It's so fascinating to see one's own history through the eyes of others."
The University of Erfurt is both one of the oldest and the newest institution of higher learning in Germany. Established in 1392, the university was closed in 1816 when Erfurt became part of Prussia. It reopened in 1994 after the reunification of Germany following the Cold War. A leader in the German educational reform movement, Erfurt has adopted a liberal-arts model of instruction.
It will be especially illuminating, Ullman says, to investigate ideas of mind control in the former East Germany, "a site of Cold War tension."
"The question of mind control is obviously imperative in looking at the old Eastern Bloc's history and its relationship with America. While our project focuses on the American side of the equation, it's going to be important to engage that conversation in a comparative fashion."
At the University of Erfurt's spring/summer semester, Ullman will teach an undergraduate course on Cold War culture in the United States and a graduate seminar focused on the notion of brainwashing and the cultural anxiety surrounding it. Her work also includes curating a film series, helping to organize a conference, and overseeing the creation of the digital archive of Cold War artifacts. The grant  includes funding for Ullman to lecture at other universities around Germany during her tenure at Erfurt.
Comments Off

on BMC Historian Sharon Ullman to Collaborate on Digital Archive as Part of Mercator Professorship in Germany