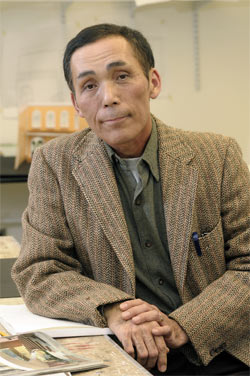 Bryn Mawr College and the Philadelphia theater community both suffered a great loss with the death last week of Hiroshi Iwasaki, 59, a longtime member of the College's arts faculty and technical director of the Bryn Mawr-Haverford Theater Program. As one of the area's leading designers of sets, costumes, and lighting, he made imaginary worlds come alive for audiences throughout the region.
"Hiroshi has designed costumes or sets for nearly every serious theater in Philadelphia," says Bryn Mawr Theater Director Mark Lord, who co-founded the theater company Big House (Plays & Spectacles) with Iwasaki in 1994. "His work was incredibly important to what is going on in performing arts in Philadelphia – he was known by theater people, dancers, visual artists, all kinds of people."
Iwasaki designed for more than 125 theater productions, in addition to dance performances and special events such as award ceremonies and Philadelphia Flower Show exhibits. According to Lord, Iwasaki even designed for a club competing in Philadelphia's traditional New Year's Day Mummer's Parade.
In a letter to the campus community, Bryn Mawr President Jane McAuliffe noted that "Hiroshi was known for his love of teaching, his uniqueness as an artist, and the seriousness and intensity of his personality as demonstrated in his work."
"His philosophy of theater design, ideas, and passion are represented in the teaching theater in Goodhart, which he helped design," said McAuliffe. "Students, faculty, and visitors will experience his presence there for a long time."
Born in Japan, Iwasaki studied French literature in Lyons and at the Osaka University for Foreign Studies before coming to the United States in the 1980s. At the School of the Museum of Fine Arts in Boston, he studied watercolor, drawing, and sculpture; he earned an M.F.A. in scene design from Boston University's School of the Arts in 1986 and designed for productions in Boston and New York. He taught in the theater program at Mercer College in Trenton, NJ, before joining the Bryn Mawr faculty in 1992.
Lord, who has taught at Bryn Mawr since 1987, formed a fruitful creative partnership with Iwasaki, collaborating on projects both on and off campus.
"It was an amazing coincidence and gift to work in a tiny academic department and to be so totally engaged with another faculty member," Lord said. "A lot of people find a colleague that they like okay, but that we chose to work together outside of the College is significant — and unusual."
Lord says he valued Iwasaki's acute intelligence, his flexibility in finding the visual vocabulary that perfectly supported the overall artistic goals of a given project, his "incredible grasp of the possibilities of material," and his intense commitment.
"He was always willing to take chances – to try things that might pay off in big ways, but that might be hugely difficult in the execution," Lord said.
As an example of Iwasaki's resourcefulness and commitment, Lord recalled Big House's production of The Ride Across Lake Constance, commissioned by the Philadelphia Live Arts Festival in 2002. The company rented an abandoned movie theater for the production, and much of the design budget was spent on deluxe red carpet that called attention to the site's dilapidated grandeur, Lord said.
During a rehearsal, a torrential rain began pouring through holes in the building's crumbling roof.
"We stopped the rehearsal," Lord said, "and all the actors were trying to bail water out to keep it away from the set and especially the very expensive red carpet. Hiroshi jumped in his little red car and zoomed off to Home Depot. He filled his car with bags of cement – probably a lot more than the car should have been carrying – and came back, and we built a dam to contain all the water."
Some of Iwasaki's work, Lord says, was highly ornate and decorative: "He designed whole worlds." But much of the work the two did together was site-specific, produced in "found locations."
"It's all about seeing the possibilities of the site," Lord says. "Sometimes it needs an adjustment, but Hiroshi had an amazing capacity to create designs that respected the spirit of the site, so that the audience's experience was simply a heightened version of what we found there."
As a teacher, Lord says, Iwasaki "was very respectful of his students' potential, and he expected a lot of them." Never patronizing, he didn't hesitate to point out weaknesses, but he "genuinely valued and respected their ideas," Lord said.
Iwasaki's teaching extended well beyond the classroom, Lord said. "Students who did tech work as work-study learned a ton from him, because he was always so willing to share how he did things."
Iwasaki is survived by his partner of 26 years, John Howe. Gifts in his memory may be made to the Kimmel Cancer Center at Thomas Jefferson University Hospital.
On Friday, Jan. 21, 2011, Bryn Mawr friends and colleagues will host a commemorative reception in Goodhart Hall on the campus at 5 p.m. Photos and, if possible, models and other items related to his work at the College will be on display.
On Saturday, Jan. 22, the InterAct Theatre Company has dedicated its Saturday matinee preview performance of Lidless to Hiroshi. That performance is in their theater at 2030 Sansom Street, Philadelphia, and begins at 4 p.m. (check with the box office). Seth Rozin is generously offering tickets for this performance to those who would like to share in Hiroshi's last work. There will be a light reception and refreshments after the show. To attend, please call the box office at (215) 568-8079.
Comments Off

on Bryn Mawr Technical Director of Theater Hiroshi Iwasaki, Creator of Imaginary Worlds, Dies at 59