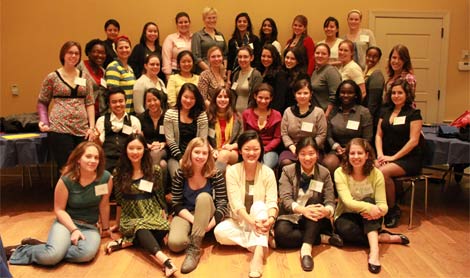 At a conference at Bryn Mawr last weekend, students from Barnard, Bryn Mawr, Mount Holyoke, Wellesley, and Smith Colleges agreed to form a Seven Sisters Council to foster communication and collaboration among the schools.
Among the group's primary goals for the future is establishing a Seven Sisters alumnae network, conference participants said.
Student-government leaders from these five institutions—the five of the traditional Seven Sisters Colleges that are still operating as women's colleges—gathered on Bryn Mawr's campus for the annual Seven Sisters Conference from Nov. 12-14.
This year's conference celebrated the legacy of women's leadership at the Seven Sisters colleges.
The weekend provided students with the opportunity to learn about each college's  methods of student governance.
"Each school did a presentation about the structure of their 'SGA.' This was very helpful because I was able to learn about what worked in their schools and how Bryn Mawr could adopt some of their ideas," said Bryn Mawr's Self-Government Association Vice President Yong Jung Cho '12.
"I enjoyed being here and learning the similar challenges and strengths of our colleges," said a student from one the Seven Sisters colleges in her end-of-the-conference survey.
During Sunday's town-hall meeting, which was open to all Bryn Mawr students as well as the visiting conferees, participants decided to form the Seven Sisters Council, which will consist of two members from each college.
The formation of a Seven Sisters alumnae network was determined to be one of the group's top goals in the next few years.
"The idea for the alumnae network came together pretty easily. Everyone was really excited about it," said Cho.
The conference attendees balanced workshops and lectures about leadership and governance with social events, such as a cupcake decorating get-together and a party in Pembroke West on Saturday night.
Overwhelmingly, students who traveled to Bryn Mawr for the conference were grateful for the new friendships formed.
Said one participant, "It was a great experience to meet and plan with the members of the Seven Sisters. I enjoyed having the opportunity to be on the campus of another Sister Sisters college."
Bryn Mawr SGA President Sophie Papavizas '11 shares similar sentiments.
"Meeting new people is always my favorite part of any conference. With Seven Sisters, it's so wonderful to meet someone and know you already have this shared women's college experience. It creates quick bonds."
Undoubtedly, those quick bonds will help foster the Seven Sisters alumnae network.
— Katherine Bakke '11
Comments Off

on Seven Sisters Conference Sets Top Goal: Creation of Alumnae Network