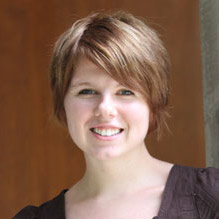 Digital communications technologies have begun to affect the work of scholars in the humanities in ways that are more than skin deep, says Jen Rajchel '11. For example, one of her professors, Katherine Rowe, recently appeared in a New York Times story after guest-editing a special online edition of the venerable Shakespeare Quarterly that experimented with an innovative model of peer review. Rajchel hopes that the accessibility of digital publishing can create new openings for undergraduates to enter significant academic conversations.
Digital Humanities In the Tri-Co
Rajchel and three other Bryn Mawr and Haverford students are ready to kick-start one such conversation.  As leaders of the Bi-College Digital Humanities Working Group, they have asked nationally recognized experts and undergraduate scholars from around the country to share their perspectives and their research on digital humanities at "Re: Humanities," a symposium on the Haverford campus next Thursday, Nov. 11, and Friday, Nov. 12. The event will be the first national conference for undergraduates devoted to the use of digital technology in the humanities.
Anchoring the symposium will be public lectures by two established scholars who are widely regarded as leaders in the movement to embrace and examine digital technology in the humanities. Undergraduate participants from Brown University, Cornell University, Hamilton College, and Middlebury College, as well as students from the Tri-Co community of Bryn Mawr, Haverford, and Swarthmore Colleges, will meet with one another to discuss their own work.  In a closing conversation on Friday afternoon, participants will begin work on an "undergraduate digital humanities manifesto."
A keynote address titled " The Future of Authorship: Scholarly Writing in the Digital Age" will open the symposium on Thursday, Nov. 11, at 4:30 p.m. in Sharpless Auditorium, in the Koshland Integrated Natural Sciences Center at Haverford. The speaker is Kathleen Fitzpatrick, who chairs the media-studies department at Pomona College. Fitzpatrick is the author of Planned Obsolescence: Publishing, Technology, and the Future of the Academy, which recently opened for peer review online as it simultaneously underwent traditional, closed peer review at NYU Press.  She also serves as co-coordinating editor and press director for MediaCommons Press, a digital press devoted to supporting innovative digital media publishing.
Amanda French will give an address titled "Humanities Research Methods from 1860 to 2060" on Friday afternoon at 1:15 p.m. in Haverford's Stokes 102. French is the coordinator of THATCamp, a collaborative project between humanists and technologists, at the Center for History and New Media. She has been named by the Chronicle of Higher Education as one of the "10 High Fliers on Twitter," and is currently working on a book about the poetics of Twitter.
Re: Humanities is the brainchild of Rajchel, along with Evan McGonagill '10 and Haverfordians Aaron Weitz '11 and Jessie Taylor '11.
Rajchel is an English major whose senior thesis (on poetry Bryn Mawr alumna Marianne Moore published as an undergraduate) was conceived and published as a digital archive that allows readers to post comments. She says that Re:Humanities was inspired by the faculty symposium organized by Professor of English Katherine Rowe and Haverford Professor of English Laura McGrane last year.
"They invited scholars to talk about digital archives and the use of digital technologies in the classroom, and I was one of several undergraduates invited to give a student's perspective on syllabi," Rajchel says. "The professors were really excited about engaging students with digital media, and they talked about the possibilities of collaboration between undergraduate students and professors.
"But if undergraduates are really going to have a voice and a presence in digital media, then we also have to advocate for ourselves and take on the responsibility of having an independent vision. This symposium focuses on how undergraduates can use these types of media to do firsthand scholarship and have a voice in their development as tools of scholarship."
Although she values digital communication and collaboration, Rajchel is also "a firm believer in face-to-face contact" – hence the invitations to like-minded undergraduates to travel to the Main Line for the event.
"It is our hope that once we meet as a group, then we can continue conversations digitally, but I think giving people an opportunity and a space to present their work to a group of people is really important," Rajchel notes.
Re:Humanities is sponsored by The John B. Hurford '60 Humanities Center, the Bryn Mawr Digital Humanities Program, and the Tri-College Digital Humanities Consortium
Comments Off

on National Undergrad Symposium on Digital Humanities Features Established Leaders, Emerging Scholars