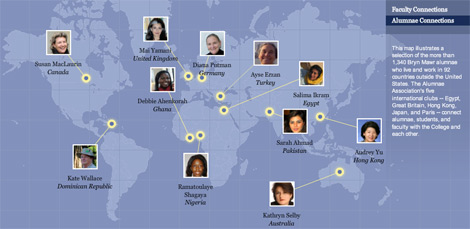 Just as students come to Bryn Mawr from across the globe, the College's graduates live and work in countries throughout the world.  Launched today, a new feature of  of our online "Bryn Mawr in the World" map illustrates the global reach of Bryn Mawr alumnae by highlighting a selection of individuals who live outside the United States. The map, now in beta testing, will be updated with more alumnae/i in the coming weeks.
More than 1,340 Bryn Mawr alumnae/i, three-quarters of whom are undergraduate alums, live and work in 93 countries. Some, like Deborah Ahenkorah '10, have returned to their native country after graduation. Ahenkorah lives in Ghana, where she promotes and administers the Golden Baobab Prize, a literary award that inspires the creation of African literature for children and young adults. Other alumnae/i move to new countries sometime after graduation. Highlighted on the map is Kate Wallace '60, who runs a bird-watching and eco-tour company in the Dominican Republic, where she served in the Peace Corps after a career with the Massachusetts Audubon Society.
The new map view complements and links to the map illustrating some of the faculty's international scholarship, which was launched in September. Additional versions of the map are planned to highlight students' international study, internships, and research.
Like the faculty version, the alumnae/i map is studded with thumbnail photos of alumnae that are linked to countries. Scrolling over a photo reveals the alumna's name and country; clicking on it opens a brief profile of the alumna. Additional alumnae/i will be added to the map over time.
Comments Off

on "Bryn Mawr in the World" Map Adds Alumnae/i