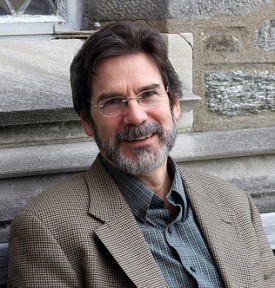 Professor James Wright, who chairs the College's department of Classical and Near Eastern Archaeology, delivered oral and written testimony at the U.S. Department of State on Monday before a hearing of the Cultural Property Advisory Committee.
Wright, long a champion of the preservation of cultural heritage, testified in support of a Memorandum of Understanding between the United States and the Hellenic Republic that would impose import restrictions on certain categories of Greek antiquities of archaeological and ethnological significance. He appeared before the committee in his capacity as the chair of the Committee on Excavations and Surveys of the American School of Classical Studies in Athens.
"Greece's rich cultural heritage [is] … in danger of being destroyed by the looting of archaeological sites and by thefts from museums and storerooms," Wright testified. His testimony detailed the depredations of some of the sites excavated under the auspices of the American School by remarkably persistent and rapacious thieves.
Wright also recounted his own excavation in 2002 of a Late Bronze Age tomb that proved to be empty, having been thoroughly looted by grave robbers. "The destruction of this tomb makes it extremely difficult to understand the history of its use," he said, "all the more the pity since it certainly belonged with the nearby Mycenaean settlement my team and I excavated."
Given the high price fetched by Greek antiquities in the United States, Wright said, illicit excavations and trafficking in such items are bound to continue unless our government acts to stop it.  The damage trafficking causes to human understanding of our common cultural heritage justifies restricting the importation of these items, he argued.
Similar agreements have been quite effective in "clamping down on the illegal market in antiquities," Wright says.
The Cultural Property Advisory Committee, established in 1983 by an act of Congress to implement the UNESCO convention dedicated to preventing the loss of cultural heritage through illicit trafficking in cultural property, makes recommendations to the U.S. president concerning restriction of imports of items of cultural property.
"Since the act was passed by Congress in 1983, the CPAC committee's recommendations have been a powerful and cumulative force in the protection of the world's cultural heritage," Wright noted in an e-mail.
According to Wright, a number of Bryn Mawr-trained archaeologists were present at the hearing. Bryn Mawr Trustee Joan Breton Connelly, Ph.D. '84, is a member of the committee. Patty Gerstenblith '71, who was previously a member of the committee, testified at the hearing, as did Brian Rose, a Haverford graduate of the Class of 1979 who majored in archaeology at Bryn Mawr and is currently a professor at the University of Pennsylvania, deputy director of Penn's Museum of Anthropology and Archaeology, and President of the Archaeological Institute of America.
"No other institutions were so well represented!" Wright said.
Comments Off

on Bryn Mawr Archaeology Professor Testifies at State Department Hearing on Artifact Theft and Trafficking