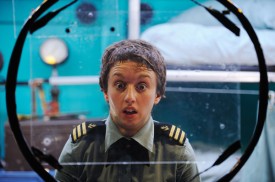 Fresh off a sold-out run at The Philadelphia Live Arts Festival, Charlotte Ford brings Chicken, an expressionistic clown play that magnifies our most intimate fears into coliseum-sized spectacles, to Bryn Mawr's Hepburn Theater in historic Goodhart Hall on Friday, Oct. 1, and Saturday, Oct. 2. Both shows start at 8 p.m. as part of the Performing Arts Series.
The absurdity in Chicken takes place deep beneath the ocean's swells, where a nuclear powered submarine carries three imbeciles in charge of a highly classified mission.
Isolated and confined to the sub's tiny interior are a buzz-cut she-beast (played by Ford), a Casper Milquetoast somnambulist cross-dresser, and a passive-aggressive Elvis devotee. In this microcosm of intense anxiety, order and ethics have been left behind with the Dramamine, petty hatreds are exploited with glee, and devising absurd plots of revenge against one another becomes the crew's true mission.
Conceived and written by Ford, Chicken explores how molehills become mountains and kitchen sink drama becomes gladiatorial bloodbath against a backdrop of pending nuclear annihilation
"Chicken began two years ago as an exploration of fear, but it has become much more about status and thrill. Those things are connected to fear, for sure (isn't everything?)–but the piece has definitely evolved from its original spark," says Ford.
In a September 1 City Paper cover-story previewing the Live Arts Festival, A.D. Amorosi wrote that Ford is "one of the bravest local perf-art personages to come along in the last decade."
Directed by Geoff Sobelle, Chicken also features the actors Mikaal Sulaiman and Jay Dunn.
Ford studied under world-renowned clown teacher Giovanni Fusetti and creates avant-garde slapstick performance art that celebrates sublime stupidity with joyful abandon. She was seen in last year's Live Arts Festival in Pig Iron Theatre Company's Welcome to Yuba City. She performed her work Flesh&Blood&Fish&Fowl at this summer's Edinburgh Fringe Festival, where it was short-listed for the Total Theatre Award
Ford is a 2002 graduate of Bryn Mawr and was an independent theater major.
"I was in every production on the mainstage at Bryn Mawr. A Dream Play was really fun, and Machinal, and Measure for Measure. For my senior thesis, I performed a one-woman show written for me by another BMC graduate, Martha Michaela Brown, which I then performed at the Philly Fringe the September after I graduated," she says.
Read more about Ford and Chicken at the below links:
Comments Off

on Charlotte Ford '02 Brings the Absurdist Comedy Chicken To Bryn Mawr's Performing Arts Series