Images of the 125th-birthday cake ceremony are posted in a Flickr slideshow, above. See the bottom of the post for video clips. Kate Thomas' remarks are available on the 125th Anniversary Blog.
Hungry celebrants crowded Merion Green at just after noon on Thursday, Sept. 23, to see the presentation of Bryn Mawr College's birthday cake. The confection was a replica of Bryn Mawr's iconic Thomas Hall that one hesitates to characterize as "miniature," given the number of people required to hoist it to the stage.
Laurel Lemon '11 and Samantha Salazar '11, student representatives to the College's 125th-anniversary committee, opened the cake ceremony with an Anassa Kata (the Bryn Mawr College victory cheer) and thanks to Bryn Mawr's student Self Government Association for funding the cake, which was baked by Baltimore's Charm City Cakes, the star of the Food Network reality-TV show Ace of Cakes.
The students then turned the podium over to Associate Professor of English Kate Thomas, a Victorianist whose research has dealt with food and food culture. Thomas recalled Virginia Woolf's comparison, in A Room of One's Own, between a splendid meal to which she had been invited at one of the men's colleges at Oxford and the typical stingy fare at the women's college where she had lodgings. "Woolf—who, we should remember, didn't even get to go to college herself—makes it clear that women must demand equity of all kinds, and not make do with the scraps at the bottom of the barrel," Thomas noted.
"We are here today," Thomas contiunuted, "to say things have changed at women's colleges (thanks in no small part, of course to Woolf and other feminist revolutionaries—writers, artists, factory and union workers, civil rights leaders, scholars, activists). I wish we could invite Woolf here, forward a few years, across a continent, to this women's college. In front of us is proof that at Bryn Mawr we know a thing or two about what is most necessary in life, about how to demand bread and roses."
Bryn Mawr President Jane McAuliffe concluded the program with a wry promise of brevity, noting, "I am acutely aware that I am standing between you and a piece of cake."
The president noted that the first class of students who had attended Bryn Mawr's opening 125 years ago included, among other remarkable women, one who would go on to win the Nobel Peace Prize, one who would become the first dean of Barnard College, and one who would devote herself to helping immigrants in Boston.
"This 125th birthday celebration would not be happening without the courage of those students," she continued, saying that today's students share that courage. Offering a "special word of thanks" to Bryn Mawr students, she said, "This is your day. I truly want you to enjoy this day."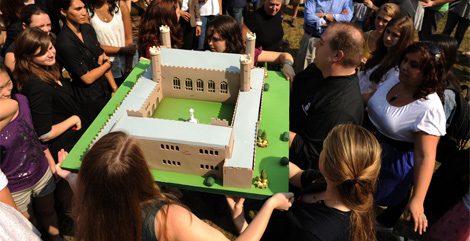 Comments Off

on A Remarkable, Architectural Cake, in Pictures and Video